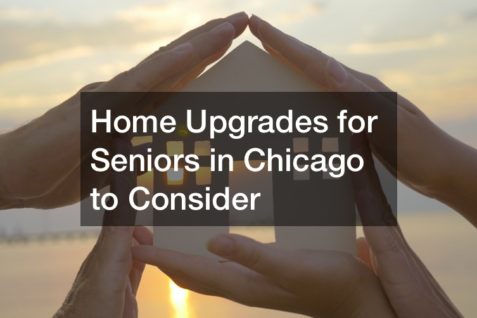 For any seniors who want to continue to live in their homes, it's important that they maintain and upgrade their homes. Home upgrades for seniors are vital to make sure that …
For any seniors who want to continue to live in their homes, it's important that they maintain and upgrade their homes. Home upgrades for seniors are vital to make sure that they are able to continue to live there. After all, plenty of seniors deal with issues like limited mobility, which make upgrades vital. But what are the best home upgrades for seniors to make?
Bathroom Remodeling
Upgrading your bathroom is one of the most important home upgrades for seniors. This is from a practical standpoint in a lot of cases. Approximately 80% of falls for seniors happen in the bathroom. This shouldn't be all that surprising, due to how slippery the floor can get in the bathroom. Tile and enamel are unforgiving after all. So, for safety alone, a bathroom renovation can be incredibly important for seniors.
One popular upgrade for bathrooms is an adjustment to the shower itself. Oftentimes, this is done by adding a seat or bench to the shower, so that whoever is using it doesn't have to stand on a wet, slick surface. For other people, strategically placed bars throughout the bathroom, like next to the toilet, are helpful in keeping your balance as you use the bathroom.
In the case of someone trying to sell their home, rather than continue and live in it, bathroom upgrades are still important. So many people put emphasis on the bathrooms when they're looking to buy a home that it's important to make sure that a bathroom is upgraded or needs very few upgrades before you look to sell the home. A dated bathroom can turn a lot of potential buyers away, and upgrading before you sell can only open the market to potential buyers and a higher value.
Solar Panels
As much as solar panels are a great investment for anyone, they're a particularly great upgrade for seniors. There are a number of reasons for this. First, it is a great way to alleviate one's carbon footprint, which is great for the surrounding environment. As for the home itself, solar panels bring significant benefits directly to anyone who installs them. Using solar heating instead of oil or gas will save you money in the long run, as you don't need to pay to refill a tank of propane or any other heating source. Furthermore, solar panels require very little maintenance. This means that once they're installed, you'll almost never have to think about them.
With all the money that you're able to save in the long run by installing solar panels, you can either invest it in another home upgrade or even spend the savings on something that you enjoy during retirement.
For many people, a home that already has solar panels is a great option when buying a home. They'll get to enjoy the benefits of solar panels, without having to deal with the initial installation process. This means they avoid paying for installation and dealing with a particular service. However, it also means that your home is more valuable to them, and they'll be willing to pay more money for it than they would without the solar panels.
Metal Roof Installation
Your roof is one of the most important parts of the home because of two key functions. The first is that it keeps outside weather, such as rain, out of your home. It's also incredibly important that your roof is properly insulated so that the heat in your home doesn't rise to the ceiling and leave through the roof. Instead, it's important to make sure that it is retained. Metal roofing services are commonly brought in for home upgrades for seniors.
Metal roofs offer a lot of strengths that make them very popular for seniors. For one, metal roofs last a long time and rarely sustain damage. In fact, they can handle wind of up to 140 mph. For a reference point, a category three hurricane tops out at 129 mph. This means you're not going to have to worry about repairing it or replacing it anytime soon. Furthermore, metal roofs are flame resistant, which makes your home that much safer. Add in a metal roof's ability to reflect sunlight and your home will stay cooler naturally. This will save costs on your cooling systems.
For all the same reasons that a senior can benefit from installing a metal roof, so can someone who is buying a home. That durability and longevity that comes with a metal roof aren't going to go away because there are new owners. Neither is a more energy-efficient offering. However, like in the case of solar panels, this will raise the overall value of the home.
Kitchen Renovations
Kitchen remodeling is one of the most important home upgrades for seniors for several reasons. First, if you are interested in selling your home, it is vital to have an updated kitchen to entice home buyers. So, what are the best kitchen renovations to make that will keep your home livable, while also making it valuable to potential buyers?
Start by making sure that your stove and sink are near to one another. This makes working in the kitchen much more convenient, requiring less walking and carrying of pans and dishes. Furthermore, a microwave that is at the height of the counter is going to make things easier in your kitchen, as you will have to lift something above the shoulders less. The other thing to pay close attention to is the actual cabinets in the kitchen. Using drawers, which are easier to pull out and access supplies, as well as taking advantage of the corners in your kitchen by adding unique corner cabinets both make the home more desirable to potential buyers, but they also make the kitchen easier for you to use.
Air Conditioning Upgrades
Making sure that your air conditioner is in good working condition is vital to your home. If your home does not already have air conditioning, air conditioning installation is incredibly important. Having a proper air conditioning system will make sure that your home is not using more energy than it absolutely needs to use. This is better for the environment and will make it so that your home needs to use less energy to stay cool. This will save you money in the long run.
Air conditioning, in particular, is incredibly important for potential home buyers. Anyone looking to buy an updated or modern home is going to want to have air conditioning available to them in the same way that heating systems are widely available. This means that having a new air conditioning system will also raise the value of your home.
Masonry Repairs
It's easy to overlook masonry repairs, but they can be incredibly important to your home. For instance, if your chimney is damaged, it is unusable. However, if your chimney is in use, it can be used to heat the center of your home extremely well. Of course, masonry doesn't begin and end with the chimney. If you have bricks on your front steps, it's important to make sure that these are kept in as nice of a condition as possible. A loose brick can cause a slip and fall, which can be devastating, particularly in winter months when the steps are going to be naturally slick.
Whatever issue that your home's bricks are having, it's important to hire a stone masonry service as soon as possible. Masonry services are one of the vital home upgrades for seniors. After all, these will make your home safer, more beautiful, and more energy-efficient to live in.
Generally speaking, brickwork and brick homes are among the most beautiful to own. However, if there is damage to them, it's not as easy to fix as a bad paint job. A potential home buyer may not want to buy a home that requires a lot of mason work. This means that if you're looking to sell, it's a good idea to make sure that all the brickwork on your home is in as good of condition as is possible.
New Paint
Painting your home is one of the great ways to revitalize a room. After all, a fresh coat of paint will make a room look bigger and brighter than it is. Furthermore, it will add personality to your space. This makes painting a home right before you sell it incredibly popular, as it makes the home look nicer and will add value to it.
Of course, it's best to look into interior painting services to hire someone to do it for you. No one wants to live in a home that has paint that didn't stay in the lines and trickled onto the ceiling or borders. After all, a bad paint job can take away all the benefits from investing in painters in the first place. So, whether it's for you to enjoy your home better, or to make it more valuable in a sale, painting your home is a great investment. Just make sure that you have it done properly.
Fire Protection Upgrades
One of the benefits of a metal roof is that it helps protect your home against fires. However, it's not the only thing that can protect your home from fires. In fact, as far as home upgrades for seniors go, making sure that things in your home are fire resistant are some of the most important.
A fire sprinkler system is one option that you can use to upgrade your home. These are more commonly seen in commercial structures, but they make great home upgrades for seniors too. Other upgrades are more common in homes, like installing extra fire detectors and making sure that whatever happens, a fire is detected early before anything bad can happen. From there, it's important to make sure that electrical wiring is up to date, use fire-resistant supplies when possible, and you have a working fire extinguisher in the home.
There will always be a time when fires happen, but you can work to prevent as many as possible while preparing yourself for whatever is possible going forward. Having these preparations is important for everyone, but especially so for seniors who may be suffering from limited mobility or other issues that make fire even more dangerous for them to handle.
Residential Lift Installation
A residential lift is also known as a home elevator, and they are one of the home upgrades for seniors that keep people in their homes more than any other. Essentially, they're installed on the stairwell, where you sit and strap yourself into a chair before it brings you up the stairs. Then, when you need to go down again, it's waiting to carry you down. This eliminates the need to walk upstairs and downstairs, which can be incredibly difficult as a senior citizen. In turn, this means that you won't need to worry about possibly having to move out of your home, just so you can get around it.
Looking to install residential lifts is one of the best ways to keep your independence and stay in your home, which makes them an incredibly popular option to choose from.
Whether you're looking to sell or remain in your home for an extended period of time, there are plenty of upgrades that you can make which will add value or make it easier to live in your home. In the studies in rats published by https://sgs.nsw.edu.au/buy-levitra-online-vardenafil/, the combination of Cialis and heparin didn't affect the bleeding time. However, the use of this combination in human hasn't been studied yet. Safety data derived from preclinical studies. No toxic (including reproductive toxicity), genotoxic and carcinogenic effects of Cialis have been established. These are truly investments for your future and should be treated as such.