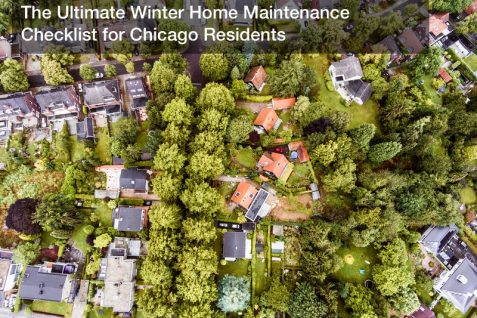 Winter in Chicago can be unpredictable, and that is putting it lightly. Occasionally, temperatures may climb in the winter months, luring residents and visitors alike into a false sense of security. …
Winter in Chicago can be unpredictable, and that is putting it lightly. Occasionally, temperatures may climb in the winter months, luring residents and visitors alike into a false sense of security. Then, just as quickly, temperatures may plummet as low as negative 24 degrees Fahrenheit — a typical temperature in late January. Further, according to The Economist, "the strong breezes whipping off a part-frozen Lake Michigan" can make negative 24 degrees Fahrenheit feel closer to negative 54 degrees in Chicago.
The dizzyingly flighty winters in Chicago leave a lot up to chance. One thing is certain, however. Homeowners need to be prepared for dramatic temperature shifts, unrelenting storms, and lots of wind, ice, and snow.
For the utmost preparedness, refer to the ultimate winter home maintenance checklist below.
Tackle HVAC Repairs
When checking items off this winter home maintenance checklist, it is important to prioritize repairs accordingly. Use your discretion, but remember ensuring that you have adequate heating in your home during winter may be the most important step of all.
Follow these steps to ensure your heating is in working order:
Schedule an inspection. Ideally, you should schedule maintenance on your heating, ventilation, and air conditioning (HVAC) system twice per year, once in spring and once in fall. If heater repair is necessary, take care of it now, before the cold sinks in.
Test it out before the brunt of the cold hits. According to Popular Mechanics, it is advisable to turn on the heat at least three times before winter. That will help you determine if it is working properly and help you identify any potential problems. If you smell burning, for example, turn off the unit and thoroughly clean it. Often, dust builds up after months of disuse. Removing the dust prevents fire hazards.
Change air filters. Swap out filters every three months at a minimum. Change them more frequently to reduce seasonal allergies or if you see your heating bill climb without good reason.
Check the chimney (if applicable) and carbon monoxide detectors. Dirty, untended chimneys with a lack of airflow can pose a serious problem, risking carbon monoxide leaks inside your home. Schedule an inspection before winter. Test carbon monoxide detectors. Replace batteries if necessary.
Winterize the rest of your home. An HVAC system can easily become overstressed without adequate insulation. Add insulation in attics and crawlspaces, use weatherstripping on doors and windows, and install a programmable thermostat for maximum efficiency.
Heating should be the first item on your winter home maintenance checklist. Remember that "winter cold kills more than twice as many Americans as does summer heat," according to USA Today. Your life may not be on the line, but adequate heating is necessary for your comfort and good health.
When you need air conditioning options for your home, it may make sense to consider commercial HVAC installation. In some situations, you can be ok with purchasing air conditioners at lowes hardware and installing them yourself. However, to keep your entire home cool, it's likely that you'll need a full air conditioner and ventilation system. Working with a professional HVAC tech can help ensure that you have the correct ac heating and cooling unit for the size of your house, the number of rooms, and the way that you use your home.
If your home is uncomfortable throughout the year, it may be time to look into an air conditioning ventilation system. Whether you need air conditioning options for one room or for your entire home, a skilled heating and cooling company can help you evaluate the situation and then install a system that's the right size to keep you and your family comfortable throughout the year. Reach out to a local heating and cooling company to learn more about the best options today, whether you need one ac unit or to heat and cool your entire home.
Maintain Garage Floors
Without adequate preparations, your garage floor is vulnerable to damages during the winter — and that brings us to item two on the ultimate winter home maintenance checklist. To avoid costly repairs and time-consuming fixes, get your garage floor ready for winter. Here is how it is done.
Deep clean your floor. Before anything else, clean your floor and clean it well. Sweep your garage floor with a wide push broom. For the best results, this should be part of your regular routine. Sweep garage floors at least once per week, or more often if necessary. Apply a cleaner to the floor, and let it sit for 10 to 15 minutes. The Art of Cleanliness notes that it is important to never let cleaner dry on your floor. After letting the cleaner sit, scrub the floor and thoroughly rinse it.

For a much faster cleaning process, use a pressure washer but proceed cautiously. If at all possible, use an attachment specifically for cleaning floors and surfaces, and test the settings on a small area first.
Apply a protective coating. A floor with an air-tight seal, like an epoxy garage floor, can make a tremendous difference, especially in winter. Avoid cracks, fissures, and rock salt stains by applying an epoxy coating on top of a clean concrete floor. Epoxy floors look sharp and resist damage from flooding, chemicals, stains, impact, and heavy equipment.
Caring for your newly sealed floor. Epoxy floors are simple to care for. Sweep floors semi-regularly, and periodically rinse floors with mild soap and water to keep them looking like new. That's all it takes.
Deicing fluids, rock salt, and excessive moisture from melting snow can cause lasting damage to your garage. Prevent this deterioration by maintaining and winterizing your concrete garage floor.
Invest In A Quality Fence
If you wish to install a new fence or fix an existing one, do it before winter is well underway. Why should a fence be at the top of your winter home maintenance checklist? It is important to install fence posts before the ground freezes, and the right fence can even provide some shade to help lower heating bills and protect delicate HVAC parts from freezing over during winter.
Fences do not last forever. On average, fences last 15 to 20 years. If your fence shows blatant signs of wear, install a new one as soon as possible. When shopping for a fence replacement, consider what types of fencing will hope up best during Chicago's frigid winters.
Cedar does not warp or shrink when exposed to the elements, Bob Vila writes. It does, however, wear over time. The unseen parts of the fence rooted in the soil are the most susceptible to wear. To enjoy the benefits of cedar without the downsides, install a reinforced, concrete base to help it last longer.
Vinyl requires very little maintenance and new vinyl fences are much more durable than older types. Newer varieties stand up to pressure and can withstand impact.
Now is the optimal time to install a new fence. The weather is cool and, if you act fast, you can install new fencing before the ground freezes.
Make Time For A Roof Inspection
Like heating, your roof needs to be at the top of your winter home maintenance checklist.
If your roof fails, it could lead to a costly repair or necessitate replacing your roof altogether — and that is nothing to balk at. According to Home Advisor, "Nationally, the average homeowner spends about $8,069 to install a new roof, and most spend within a range of $5,352 and $10,842."
The far wiser and more prudent course of action is to schedule a yearly roof inspection. During an inspection, a roofer or contractor will look for any signs of disrepair. They will look for missing shingles, or shingles that are cracked, buckling, or missing granules. They will look for gaps around flashing, and any other telltale signs of trouble.
Roof repairs resulting from an inspection are often relatively minor and entail general upkeep of your roof. Make these repairs now, before snow piles on top of your roof and weighs it down.
Tend Trees And Prepare Them For Winter
Prep any remaining plants and trees for winter. While you may not think immediately think of tree pruning when it comes to your winter home maintenance checklist, the consensus from experts is that you should.
Pruning trees serves several purposes. First, it prevents dead branches from falling. Dead branches can easily break — especially when encumbered by heavy, freshly fallen snow. Those branches pose a safety hazard to anyone nearby and may even fall onto your roof, on top of your car, or into the side of your home, leading to exorbitant repairs.
Another reason why it is important to prune trees in fall is that it is good for them. It prevents disease, encourages growth in spring, and helps maintain trees' optimal structure.
Remember, pruning may seem like a step to ignore or to move to the bottom of the winter home maintenance checklist, but this would be a serious misstep. Avoid dangerous hazards and expensive repairs with quick, efficient pruning.
Properly Store Lawn Equipment
It is very unwise to leave lawn equipment out in the cold, particularly in Chicago's fickle climate.
If you have the room to spare, stow lawnmowers and any other large equipment inside your garage or inside a properly sealed garden shed. Before storing them, remove batteries from electric mowers and empty the fuel out of gas mowers or stabilize it.
For those of us who aren't lucky enough to have extra storage on-site, consider professional storage services. Prep lawnmowers and equipment first, and then get an estimate from professional storage services.
Stowing equipment prevents hazards, corrosion and rust, and equipment that fails long before its time.
Stow Patio Furniture For The Winter
As with lawn equipment, it is critical to properly store patio furniture during the winter months. Prep patios for winter with a few careful steps and mark that item off your winter home maintenance checklist.
The way you store patio furniture depends on the type of material it is made out of. For example, wood needs to be treated to prevent mold and mildew. If moisture seeps into wood furnishings, it may fissure and crack.
Plastic, on the other hand, can grow brittle and break into the deep cold of winter. Keep plastic inside and dry if at all possible.
If you lack storage, you can keep aluminum furniture outside with adequate preparations. Thoroughly clean aluminum furnishings and cover with a thick, water-resistant cover for winter. Aluminum is naturally rustproof. If limited moisture gets to it, it should be okay.
Wash Your House
Winter can easily take its toll on the exterior of your house. That means you want to start with an exterior that is as durable and hardy as possible. Add washing the exterior of your home to your winter home maintenance list to prevent large cracks and costly repairs.
A buildup of dirt and grime is not doing the exterior of your house any favors. In fact, it is weakening it. Mold and mildew can be especially threatening to the integrity of your home. If you do not take care of these problems now, they will only worsen during winter.
Get estimates from power washing services in the greater Chicago area. Power washing effectively removes grime, mold, and mildew from the outside of your home, fortifying it for winter.
Keep Heat Inside Your Home With New Windows
"Heat gain and heat loss through windows are responsible for 25 to 30% of residential heating and cooling energy use," Energy.gov writes. In other words, your old, leaky windows are costing you a lot of money and stopping you from being comfortable inside your own home.
For the most efficient windows, put in your research before window installation. Choose windows that will lower your energy bills by keeping energy inside. For example, any windows with The National Fenestration Rating Council (NFCR) or ENERGY STAR labels or designations are a safe bet.
Further, choose windows specifically for Chicago winters. That means windows suited for extreme cold and high winds. That includes low-e windows or low u-factor windows. Both help prevent heat loss.
Protect Your Plumbing
Plumbing is another buzz-worthy item on the ultimate winter home maintenance checklist and any winter maintenance checklist for that matter. Without adequate insulation, plumbing can freeze over during frigid winter months. At best, that can leave you without flowing water. At worst, your pipes can burst. Burst pipes are a big problem, often resulting in flooding and water damage.
Keep temperatures at your home at an absolute minimum of 55 degrees Fahrenheit even if you are away. Keep temperatures any lower and you risk your pipes freezing over. Insulate pipes in chilly areas of your home, like the garage, attic, or basement, using easy-to-install pipe sleeves or special thermal pipe tape.
A trusted residential plumber will be there for you, whether your toilet is clogged or your pipes burst. The anti-anxiety effects of Klonopin appear relatively quickly after taking the drug. You may need to take doses several times a day. Some of the https://www.ncahcsp.org/buy-klonopin-online-2-mg/ most common side effects of Klonopin include drowsiness, dizziness and lightheadedness, lack of coordination and unsteadiness, fatigue. These side effects may disappear or decrease over time. Consult your doctor if side effects worsen or become unmanageable. Do yourself a favor and make sure it's a minor problem — one that will not break the bank.
Winters in Chicago are no joke. Do whatever you can to make sure your house is ready for them. Know your house is adequately prepared with the ultimate winter home maintenance checklist above.
More Topics:
fall home care, fall home improvement, fall home maintenance checklist 2019, home care tips, home maintenance to do list, list of home maintenance tasks, list of house maintenance tasks, september cleaning schedule, tips for fall home maintenance, autumn tips, fall checklist for homeowners, autumn home maintenance checklist, fall house maintenance checklist, fall maintenance checklist for your home, maintenance tasks, the house maintenance, fall maintenance checklist, maintenance tips, fall home maintenance, fall home maintenance checklist.