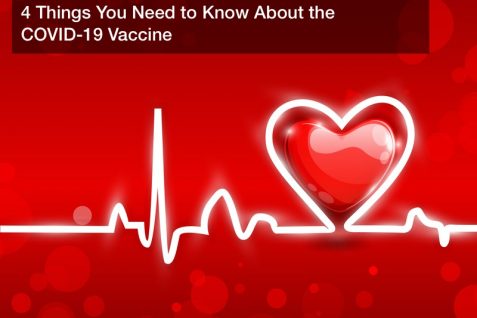 With the news that a COVID vaccine is on the way, people in Chicago and throughout the country are trying to prepare. With 2.7 million people living in Chicago, there are …
With the news that a COVID vaccine is on the way, people in Chicago and throughout the country are trying to prepare. With 2.7 million people living in Chicago, there are certain concerns about availability and distribution of the vaccine.
Before panicking or latching on to rumors, get the facts about the vaccine. It is understandable that there is a lot of anxiety, with healthcare concerns running high, but having accurate information will serve you and your family better.
First of all, the authorization the Food and Drug Administration is considering is an emergency one, which means that the vaccine will be targeted for vulnerable communities. This will not be the wide vaccine distribution many people are hoping for, not yet at least. There will simply not be enough of the vaccine initially.
Second, this is not the only vaccine. There are more still being developed, with the potential for approval. The priority now is getting something out to protect the people who need it the most and try to stem the horrifying tide of COVID-19's spread.
Third, the vaccine requires two doses, so that cuts the potential vaccinated group in half. For every 100,000 doses produced, 50,000 people can get vaccinated. Since this is a problem that is in the millions, it will be quite a while before we see mass distribution of those two doses.
Those are the broad strokes. Here are 4 more specific things you should know about the COVID vaccine before it arrives.
1. Setting Priorities
One of the most important things that states need to do ahead of the vaccine being released is set appropriate priorities. This will be crucial, especially for vulnerable communities.
The Centers for Disease Control (CDC) expects the vaccine to be in short supply for several months, meaning that initially it will largely go to the most vulnerable populations. States will be encouraged to follow the CDC guidelines for distribution. Illinois already has said it plans to adhere to that guidance for distribution.
The top of the list will be the front-line healthcare workers who have been in harm's way since the beginning of this pandemic. With those workers coming into contact so frequently with people who have COVID, their healthcare concerns make the top of the list.
Right after them, however, are those who live in senior housing. Seniors are at very high risk if they get the disease, so vaccinating them is an extremely high priority. These two groups were recommended as the top priorities by a 13-1 vote by a government advisory panel.
When it comes to healthcare workers, doctors, nurses, therapists, emergency services personnel and even janitors working in hospitals are all at very high risk. More than 230,000 of them have gotten COVID-19 and, unfortunately, more than 800 have died. With hospitals still overwhelmed, there are fears those numbers could get worse if those workers are not swiftly vaccinated.
Everything from your local urgent care center to major hospitals are feeling the strain right now and it could get worse thanks to people traveling for holiday celebrations. A crucial part of the deployment of the vaccine will be addressing the healthcare concerns of these workers so they can continue the heroic effort they've been undertaking to battle the disease and treat patients.
The situation in assisted living centers is similarly grim. While just 1% of the U.S.'s population lives in a senior community, those facilities account for 8% of COVID-19 cases here. Even more horrifying – assisted living centers account for 40% of the deaths from the disease, a truly ghastly figure to contemplate.
That's why they will be next in line after healthcare workers to receive the vaccine. Stopping the skyrocketing numbers among seniors is of crucial importance if the country is going to get the spread of the disease under control. With the figures still growing, the vaccine will be desperately needed among this vulnerable population.
2. What About the Rest of Us?
So what happens to the rest of us? Even if we are not healthcare workers or seniors, there are many people with healthcare concerns relating to the disease. Many people are still at high risk, even if they are young and don't work in a hospital. For example, anyone with a pre-existing condition is already at elevated risk should they catch the disease.
This is made more challenging by the lack of a cohesive national policy regarding the virus. States have not collaborated on measures such as closing businesses, shutting down schools or enforcing mask wearing. This has allowed the virus to continue to spread, even when some states have taken stricter measures.
With each state making its own rules and choices, the response to COVID-19 has been scattershot at best. With the vaccine, states are being required to send a distribution plan to the federal government, however. The CDC has provided guidelines for distribution.
However, the reality is that most of us will simply have to wait. With those two critical communities still facing unprecedented risks and healthcare concerns, it will be up to the rest of us to continue to hold tight as other vaccines are developed and perhaps distributed as well.
Some of the next in line, however, include essential workers. These are the folks who have had to continue doing their jobs even as the pandemic worsened. They include people like delivery drivers and supermarket workers.
However, once again the states will get to decide. In some places, a disability advocate may argue for certain populations over others. For example, Colorado wants to give vaccines to ski industry workers, as they live in shared housing. The priorities and risks facing the workers in each state may help determine how prioritization for the vaccine shakes out.
There are so many industries and workers that people may forget about when thinking about who is next in line for the vaccine. Should dentists get it next because their patients can't wear masks while undergoing treatment? Will podiatric care be deemed more or less risky than other types of care?
This remains unclear, but it may boil down to healthcare concerns rather than industry. Sadly, there won't be enough of the vaccine for all of those front-line healthcare workers initially, so even though they are the highest priority overall, there will even be tiers within that group. For example, older healthcare workers or those with pre-existing conditions may jump to the head of the line even among their healthcare colleagues.
The Advisory Committee on Immunization Practices has not yet said who will be next in line after the two most vulnerable populations. However, they will have to meet again soon to discuss the distribution of the vaccines, made by Pfizer and Moderna, and the healthcare concerns of the general public.
There are some contenders for next in line. This includes people like teachers, firefighters, and those with underlying healthcare concerns. People handling, producing, or transporting food may find themselves on that list as well, but it is important to remember that all of this information remains speculative for the time being. There is simply too much that is not known. The first doses going out are considered "emergency use," so general use is not yet on the docket with the crisis still ongoing.
Ultimately, what this means for most of us is that we should not anticipate getting vaccinated any time soon. Some experts believe the general public may see wide distribution of a vaccine in spring, but that is still an uncertain timeline. Until then, it's crucial everyone does their part in helping to slow the spread. Even with a vaccine, there will be many, many people still left at high risk.
3. Medical Offices Preparing
Distributing the vaccine will not be as simple as just lining people up and giving them a shot. For one thing, there is a waiting period between the doses. A patient must get one shot, then wait three or four weeks before getting the second dose.
A larger issue is that our healthcare facilities are already overwhelmed by this disease. There may be places that need dramatic medical office renovations simply to accommodate patients, let alone to try to distribute a vaccine. With demand for the vaccine anticipated to be very high, hospitals, urgent care centers and other medical facilities will likely have to adjust on the fly to meet demand.
If you happen to have a hand in running any such facility, it is probably better to get on top of any changes or repairs like this as soon as you can. Demand will only get more intense as the vaccine becomes more widely available, so if you need HVAC services or roof repair, you will want to take care of that before things get even more chaotic.
It isn't even just the big things that healthcare facilities should be thinking about. Cleaning staff may be among the first who can get vaccinated and they have a big job ahead of them. Disinfecting and general cleaning are crucial tasks during this time, with everything from marble cleaning to dusting to wiping down the windows becoming a far higher priority than usual. There could be healthcare concerns for those arriving at a facility to get their vaccine, so disinfecting and cleaning should be a priority for these facilities.
4. Preventing Spread
What should we do in the meantime? One of the most important things is simply preventing the spread of COVID-19.
Unfortunately, even with a vaccine coming out, many of those with healthcare concerns will remain at risk for some time as doses get distributed in order of priority. This means that masks and social distancing will remain a crucial tool is limiting the spread of the disease.
It is understandably difficult for businesses to operate with these kinds of restrictions. Some in business law have sought out ways to make their operations as safe as possible while still working within the restrictions and guidelines. However, some states have still shut down in order to stop the rapid spread of COVID-19.
The same goes for apartments and living spaces of all types. Whether you are a building contractor or a resident, things have changed for all of us. We may not be communicating as much or as freely with our neighbors. We may feel cooped up and bored and restless. However, staying inside and wearing a mask when we must leave the house will help those most at-risk of dying from the disease.
The restrictions are burdensome for many, from businesses losing revenue to ordinary people just hoping to find a sense of normalcy again. However, the emergency vaccine shows just how serious the healthcare concerns around this virus are. Two extremely vulnerable populations may get vaccinated soon, but there will still be millions and millions of people at risk.
It isn't clear just how long we may need to wait for a more widely distributed vaccine that can offer more protection to more people. In the meantime, many live with the burden and fear of healthcare concerns related to COVID-19. In Chicago and throughout the country, most of us are simply hoping for a way to stop the disease in its tracks and try to heal some of the damage it's done.
Even though the vaccine is limited at the moment, the announcement of a vaccine is still good news for the country. Front-line healthcare workers and seniors will get those early doses, but this is the beginning of us truly getting this pandemic under control. Those with healthcare concerns, a business losing revenue, or other issues may understandably be frustrated by the news, but this is a hopeful sign for the country.
The wait will not be an easy one. However, if we can stick to social distancing and other precautions, we can help the vaccine do its work protecting those vulnerable populations. Other companies are still rushing to develop their own vaccines to meet the tremendous needs of the country. We can only hope we will hear more good news in the near future. Until then, stick to the facts and keep yourself and your loved ones safe.