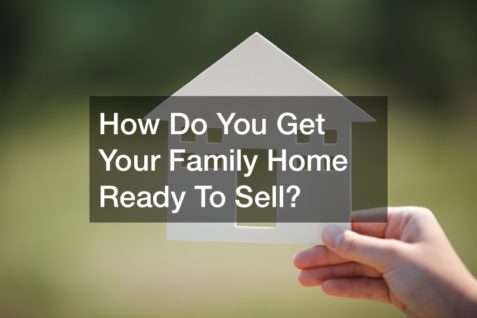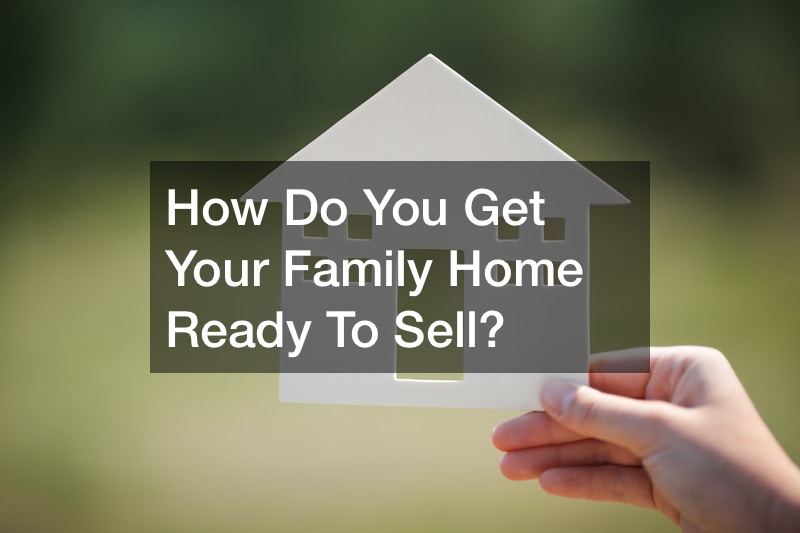 No matter what the reason, when the time comes to sell the family home it involves lots of work. The toughest decision you will ever make is whether to sell or …
No matter what the reason, when the time comes to sell the family home it involves lots of work. The toughest decision you will ever make is whether to sell or not. Your home is the biggest financial investment of your life. Making a decision to sell requires lots of thought and preparation. The average homeowner spends at least six months mulling this over before making a final decision.
Once you have decided that selling your home is the best option, there's lots of work to do. You need to ensure all electrical systems are in top-notch condition. If there are any repairs, such as painting you will need to get this done before putting the home on the market. You want your home to be in top-notch condition in order to get the highest market price possible.
Getting Your House Ready
The first two weeks in May is the best time to list your home for sale. This is according to sales data in 2019, this time of the year is an ideal time to expect the biggest profit. In addition, Saturday is the most popular day of the week for listing your home for sale. However, there are a few things that can change this theory. Some of these are the current housing market trend, job market, location, and individual circumstances.
Let's say the housing market is trending well, your home is in a desirable location with lots of job availability. You plan on listing your home for sale next May 15th. Six months prior to this date you need to start preparing your home.
Inspecting Your Property
Doing a complete inspection of your property helps you know what type of repairs need doing. It also gives you an idea of where your home places as far as a value among similar homes on the market.
The state you live in might have laws regarding disclosure of damages. If your basement flooded, it would be wise to fix it now so you don't have to disclose the damage later. You can ask for a pre-listing inspection if you are not sure what needs repairing. Therefore, you can get it fixed prior to the buyer calling off the sale when they discover the damage.
Getting the House Ready to Sell
The two months prior to placing your home on the market should be spent doing repairs and tidying up. You don't want to spend so much money doing repairs that you lose a lot of the profit from the sale. You just want to make it look worth the price you are asking. Here are some important repairs that need to be made to get your family home ready for the market.
Start With Repairing the Old
Is the flooring in your home old and tired-looking? Years of little feet running in and out of rooms can really do a number to the carpet and linoleum. One good way to give your flooring a facelift is to replace it with hardwood flooring. It not only gives the inside of a home a new look, it increases the value of your home.
Add New Life to a Tired Kitchen
The years have most likely done a number on the number one place in a home a family uses. Hinges on cabinet doors might be loose from opening and closing frequently. Countertops scratched from cutting sandwiches and the like on them.
You don't have to do an expensive kitchen renovation just to give your old kitchen a new life. Paint the cabinet doors, replace countertops, and put new hinges on the doors. These are all fairly inexpensive tasks that will do wonders for the aesthetics.
Reviving the Bathroom(s)
The bathroom is another room in a home that takes a lot of abuse throughout the years. The grout might need replacing, and the bathroom cabinets might be worn-looking. Same as in the kitchen, these repairs don't have to be expensive.
When replacing the tile and grout in your bathroom you will spend little money making your home worth more. Also, fresh paint on the bathroom cabinets, new linoleum on the floor, gives you a showroom quality bathroom.
Repair Water Stains
Water stains are not only unsightly, they are a red-flag warning to a future buyer. Water stains indicate one of two things–a leaking roof or faulty plumbing.
The first thing to do is fix the problem. Hire a plumber to repair any leaks in the pipes. Put some drain cleaner down the drains to ensure there are no clogs in the drains.
This might also involve getting on the roof and inspecting it (or hire a roofing professional) for leaks.
Once the repairs to the roof and plumbing are done, you need to get rid of the water stains. It doesn't cost too much to replace a water-stained ceiling and drywall. Yet, it will be worth it. It means the difference between a potential buyer losing interest and selling your home.
Fixing Windows and Screens
Nothing can make a home look more old and ragged than screens that are torn and out of shape. The years may have done a number to the screens in your home. This is a cheap fix. You can go to the hardware store and buy a window screen repair kit for less than $20.
You can either do it yourself or hire a handyman to do it. However, you repair the screens, ensure you do. Even the smallest detail can make a potential homebuyer turn up their nose and scratch your home off their list.
Repair Damage done by the Furry Kids
Make sure to fix any damage the fur kids might have done around the house. Little scratches on the woodwork that the kitten did can draw a homebuyer's attention to other damage. It doesn't cost a lot of money to replace a door or sand out the scratches and paint over it.
Inspecting the Heating and Air System
The heating and cooling service in a home is important to a new homebuyer. Therefore, you will want to have a professional heating and air conditioning service inspect these systema for any needed ac repair. You can purchase a warranty that the buyer can utilize for up to a year following the sale. This way it guarantees if they need air conditioning repairs they will get covered under the warranty.
Check the Circuit Breakers and Electrical Panel
Most likely this will require enlisting a professional for electrician services. An electrician will ensure your electrical panel and the circuit breaker is up to code. An older home that uses a fuse box might need it to be repaired or replaced. It can be difficult for the new owner to find new parts for an older unit. Therefore, having an electrician update it would be a smart investment.
When it comes to the electrical of a home you have two options–upgrading or repairing it. We have listed here some critical differences between an electrical repair or upgrade.
The primary difference between the two is this–an upgrade can significantly increase a home's value. While simply doing a repair will avert the value from decreasing.
Applying a Fresh Coat of Paint
Nothing can erase the signs of aging and time than a fresh coat of paint. About a month prior to listing your home, paint the interior. To prevent damaging freshly painted walls, remove large pieces of furniture first. An important note when painting the interior is to choose colors that are neutral. You don't want to use bold colors that might be offensive to a potential homebuyer. When using light, neutral colors the new homeowner can easily cover it with their preferred paint if they so desire.
Get Rid of Clutter
This will prevent you from the scramble of cleaning up and preparing to move after the house sells. You might want to rent a storage space to store stuff inside temporarily until you move to your new home. Donate stuff to the local charities in town. Now is the time to prioritize what you want to keep, give away, or toss in the trash.
This is also an excellent way to get a lot of packing done prior to the home selling. Depending on the escrow period, you might not have very long to vacate the premises.
You will also want to go through each room and get rid of excess furniture that is taking up to many areas. A future homebuyer is going to want a home with plenty of room for storage. This means going through closets and removing stuff to show off how roomy they are.
Give your Home Good Curb Appeal
The final two weeks before your home goes on the market you want to ensure it has good curb appeal. You can do this by hiring professional natural lawn care services. In addition, hire some tree trimmers to get to work on the trees and other shrubs.
Oftentimes if the home doesn't look appealing from the street or curb, the homebuyer won't bother inquiring inside.
Some little things you can do to make the exterior look more appealing is edge the lawn and plant some flowers. You might also think about change or modernizing the outdoor lighting fixtures. Painting the front door or purchasing a new one is also a good idea.
Deep Clean the Entire House
The entire time your home is on the market you need to keep it extra clean. Make sure you have the carpets professionally steam-cleaned and polish all appliances in the kitchen. Also, disinfect bathrooms, wash all the windows and screens throughout your home. These little extra cleaning steps will make all the difference to a potential home buyer.
Repair the Exterior of the Home
Thus far we have been working on making the interior of the home look showcase ready. When trying to sell the family home, do not neglect the exterior. It is, after all, the first thing a potential homebuyer will see.
Two important areas of the exterior are the garage door and other exterior doors. Ensure the garage door is working in optimum capacity. It must meet all the specific codes for operation and safety. If any springs are broken or loose, you will have to have them repaired. Additionally, make sure the remotes for the garage door opener are working well.
Inspect the exterior doors around your home. Any dings or scratches are eyesores to a potential buyer. Verify the doorknobs are in working order and not worn out. You can visit your local hardware store and purchase new doorknobs at little cost. Although weatherstripping is an easy fix for a new homeowner, you should ensure it is all intact. If you have any sliding doors, make sure the tracks are aligned and the doors open and close smoothly. If you have a door going from the house to the garage it should be compliant with building fire codes.
Final Touches
You will need to have the roof and eaves inspected and repaired if needed. Ensure the gutters are in good condition. Any water rot or damage to the roof, eaves, or fascia will need a professional to repair or replace it.
Ensure drainage in the yard deters away from the home's foundation. If it does not, you will need to hire someone to grade the yard professionally.
Any retaining or stem walls need to be sound structurally. A professional contractor can inspect the foundation. Instability in the foundation is indicated by floors that are sagging and horizontal cracks in the floors. Also, cracks along the interior or exterior walls that are vertical or horizontal can indicate an unstable foundation.
Final Thoughts
When it is time to sell the family home, it can be difficult. It is always sad to say goodbye to one chapter of life and begin a new one. Yet, if all repairs and maintenance are done, you can be certain your old family home will make a profit. Allowing you to move on to the next chapter of life a bit more financially stable.