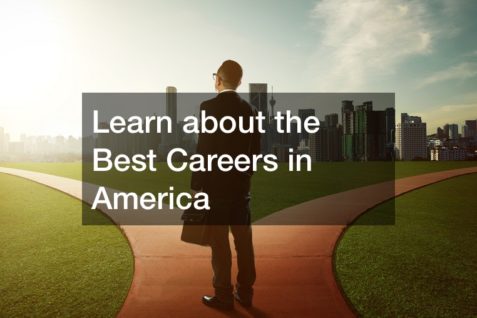 With all that has been going on in society, certainly, there are many people wondering what career will be the best in America. With the shutdown due to the pandemic, more …
With all that has been going on in society, certainly, there are many people wondering what career will be the best in America. With the shutdown due to the pandemic, more immigrants are coming over due to political issues, like Afghanistan, and other situations. The times are changing. And what seemed like stable positions before are not so stable in many cases, and there is a lot of uncertainty. With this said, trustworthy sources did research on which careers are the best ones in America, and these sources are from the Bureau of Labor Statistics and the US News. The following are 20 of these careers:
1. Software Developer
Industry: Technology
Median Salary: $107,510
Unemployment Rate: 1.4%
Job Growth: 21.5%, or 316,000 new jobs by 2029
Apps are ubiquitous in everyday life. From checking bank account balances, connecting with friends on social media or ordering takeout, just about everyone takes advantage of the work done by software developers.
Software developers design user-friendly computer software and smartphone applications. These professionals are creative and detail-oriented, testing and perfecting apps until they're as seamless as possible for the best user experience. Software developers enter the field with a bachelor's degree in computer science, software engineering or a related field and must be familiar with computer programming. The demand for new apps and software will drive the need for software developers in the years to come.
2. Physician
Industry: Health care
Median Salary: $206,500
Unemployment Rate: 0.3%
Job Growth: 4.3%, or 18,500 new jobs by 2029
Doctors care for patients through colds, pregnancy, heart attacks and other illnesses and conditions. Physicians examine patients, order tests, treat a variety of illnesses, prescribe medications and more, all to the betterment of a patient's health and well-being.
Physicians attend four years of medical school, earning either a Doctor of Medicine or a Doctor of Osteopathic Medicine. They also go through a residency program, which can take three to seven years to complete. It's one of the best-paying jobs, but it's one that comes with a lot of stress. Employment for physicians is growing as fast as other occupations, according to the BLS.
Industry: Health care
Median Salary: $208,000
Unemployment Rate: 0.2%
Job Growth: 2.4%, or 200 new jobs by 2029
Orthodontists enable people to smile wider and more confidently. They fix misaligned teeth and improper bites with braces and retainers for both function and aesthetics.
Orthodontists must go through dental school, a residency program and the proper licensing requirements requested by the state. They have one of the best-paying jobs on the list, and it also comes with great work-life balance. A large portion of their work will be around adult braces, but It's a low-stress job, since orthodontists aren't involved in life or death situations on the job, but it's rewarding and transforms smiles.
4. Information Security Analyst
Industry: Technology
Median Salary: $99,730
Unemployment Rate: 2.7%
Job Growth: 31.2%, or 40,900 new jobs by 2029
If your personal information has never been compromised in a data breach, information security analysts are to thank. These cybersecurity experts make sure hackers and cyberattacks don't infiltrate the information systems and networks of banks, financial institutions, health care organizations and anywhere else that uses cloud-based services.
A bachelor's degree in a computer-related subject is necessary to enter this industry. Pursuing this career won't guarantee you a 9-to-5 job; since cyberattacks can happen at any time, information security analysts are almost always on call. But that also means there's high demand for these professionals as much of the internet continues to rely on cloud services. Employment in this field is growing much faster than average, according to the BLS.
5. Substance Abuse and Behavioral Disorder Counselor
Industry: Social services
Median Salary: $46,240
Unemployment Rate: 1.7%
Job Growth: 24.7%, or 79,000 new jobs by 2029
People who struggle with mental health issues or substance abuse need the targeted care of these types of counselors. Substance abuse and behavioral disorder counselors evaluate patients with eating disorders, drug addiction, alcoholism and other mental health issues, developing treatment options to overcome those obstacles.
The educational requirements may vary for this field, but counselors working in a private practice need a master's degree, up to 4,000 hours of clinical work, a passing grade on a state exam and continuing education after that. The BLS says the job will continue to see strong demand as states increasingly seek counseling services for drug offenders rather than jail time.
7. Physical Therapist
Industry: Health care
Median Salary: $89,440
Unemployment Rate: 1.6%
Job Growth: 18.2%, or 47,000 new jobs by 2029
Physical therapists rehabilitate those who are injured by helping them manage pain and improve mobility. They work one-on-one with their patients – who vary from people with fractures, amputations, cerebral palsy, neurological disorders and even sports injuries – assessing their range of motion, developing plans and goals toward recovery and using stretches, exercise and other equipment to help patients meet those goals. Oftentimes, after successful recoveries, there will be flower deliveries– a lot has been accomplished!
They spend a lot of time on their feet, lifting and moving patients when needed, so dexterity and physical stamina are some important qualities for PTs. To become a physical therapist, a Doctor of Physical Therapy from an accredited program is required. All states require physical therapists to be licensed.
8. Mechanical Engineer
Industry: Engineering
Median Salary: $88,430
Unemployment Rate: 1.9%
Job Growth: 3.9%, or 12,400 new jobs by 2029
Mechanical engineers are part of the broadest engineering field, designing, testing and manufacturing various machines and devices in a wide range of industries. A mechanical engineer's analytical problem-solving skills and ability to bring a product to fruition from start to finish can thrive anywhere from the automotive to electronics and even aerospace industries.
Those pursuing this career need a bachelor's degree in mechanical engineering from an accredited program, where students will encounter plenty of STEM classes in their course of study. Employment is growing in this field as fast as all other occupations, but the growth rate will be different depending on the industry. The BLS says these engineers will continue to be involved particularly in auto manufacturing, and those familiar with the latest software tools and 3D printing will fare even better.
9. Financial Advisor
Industry: Business
Median Salary: $87,850
Unemployment Rate: 0.4%
Job Growth: 4.4%, or 11,600 new jobs by 2029
When you need guidance during financial uncertainty or you want to make sure you're making the right money moves to have a secure future, financial advisors are there to help. They are dedicated to helping clients meet their financial goals through recommendations on investments, mortgages, savings, estate planning, taxes and more. Because any money decision is an important one, financial advisors must build trust with clients and listen and understand their needs.
The job can sometimes be stressful, such as during an economic downturn, and some financial advisors may work more than 40 hours a week, according to the BLS. Financial advisors usually have a bachelor's degree in a business-related field and complete training on the job. Many pursue an advanced degree or additional licenses and certifications to attract more clients.
10. Registered Nurses and Other Medical Professionals
One important question to ask yourself when planning for a future-proof career is what services people are always going to need. Medical professionals are definitely at the top of the list. People will always need medical care and, while the technology we use to deliver some of that care is changing, the necessity for nurses, doctors, and medical professionals will always be there.
Depending on your field and which medical profession you want to pursue, there are a number of options for students. For those who value interacting with patients and want to become registered nurses (RNs), you're going to need either an associate degree in nursing, a Bachelor of Science in nursing, or another accredited diploma from a nursing program. If you're interested in becoming a practicing physician you'll need a medical degree in your chosen field on top of your four-year degree.
Even better, students interested in working in a medical profession may be eligible for student loan forgiveness. It's part of the FELS (Forgivable Education Loans for Service) Program where students can have some or all of their student loans forgiven as part of working in eligible professions within North Carolina. Examples of FELS eligible professions and programs include a wide range of nursing, allied health, and medical programs. Be sure to check carefully and see if your program is eligible for student loan forgiveness.
11. Data Analysts
If there's one field that has positively exploded in the last decade, it's the field of data analytics. Big data is more than a buzzword, it's a growing field with lucrative opportunities for college graduates. As a matter of fact, the projections for careers in the fields of computer and information research scientists (which also includes data analysts) are among the strongest out there.
According to the Bureau of Labor Statistics, the projected growth rate for jobs in the field is 16 percent. This is more than three times the average national growth rate for jobs, which is five percent. Couple this with a 2018 median industry pay of more than $118,000 and you're looking at an opportunity to make some serious money. Of course, it's also recommended that you have a master's degree in computer science or another related field if you want to break into the industry.
Data science is also a promising field for people looking to break down walls and shatter glass ceilings in a traditionally male-dominated industry. An article from Forbes detailed that only 26 percent of the jobs in data science in the U.S are held by women. Thankfully, there are terrific programs out there looking to change these numbers. Girls Who Code is one such program designed to offer clubs and immersion programs for girls from third grade through college. The program teaches girls all about the exciting world of computer science and how they can break into this dynamic field themselves.
12. Plumbers, Pavers Electricians, and Other Laborers
Not all of the best careers for the future will require a four-year undergraduate degree. There are many jobs in America with a desperate need for skilled laborers. A report by the National Science Board projects that there will be 3.4 million unfilled jobs in skilled labor by 2022. There's a serious demand for skilled positions jobs like plumbers and a skilled closet designer, and these are well-paying jobs with promising career prospects.
One of the best things about skilled labor positions is how quickly you can potentially enter the workforce, especially through a commercial construction company Many of these positions require a high school degree and often an associate degree in a related field, but don't necessarily require graduation from a four-year university. Students looking to work with their hands in a high-demand field installing the best roof coatings should give serious thought to jobs as plumbers, electricians, and other skilled trades.
13. Dentists and Dental Hygienists
Like medical care, people still need to visit the dentist regardless of how the economy is doing. As baby boomers keep getting older, they're going to require more dental care. The same can be said for the health-minded millennial generation.
Students will need an associate degree in dental hygiene to start a career as a dental hygienist. The Bureau of Labor Statistics predicts 11 percent annual growth in this important field over the next ten years. For a career as a dentist, you'll need a bachelor's degree followed by a Doctor of Dental Surgery (DDS) or Doctor of Medicine in Dentistry (DMD).
Careers for dentists are expected to grow by seven percent by 2028 and have a 2018 median pay that's almost twice what you'd make as a dental hygienist ($156,240 as a dentist compared to $74,820 as a dental hygienist).
14. Lawyers and Other Legal Public Service
UNEMPLOYMENT RATE
0.6%
NUMBER OF JOBS
32,300
There's a little truth and a lot of exaggeration in all these portrayals of lawyers. In many cases, lawyers at well-known firms do make a lot of money. But most put in a lot of time and effort to earn those handsome paychecks. District attorneys, like the ones depicted on TV, do prosecute those accused of committing heinous crimes. But there are some lawyers who never step foot in a courtroom or utter a single eloquent remark in front of a judge. Those types of lawyers sit at their desks with mountains of paperwork completing research or writing contracts.
Lawyers may work privately for big firms or small practices, or they may work publicly for the government. In the public sector, lawyers can find jobs as district attorneys or public defenders, or they could even work for the federal government. In the private sector, many lawyers seek jobs at big firms, where they'll usually choose an area of specialty such as a divorce attorney environmental law or tax, divorce or become bankruptcy attorneys. And although the profession can involve a lot of time in a courthouse, it doesn't always. Lawyers also spend a lot of time conducting meticulous research, analyzing prior cases, soliciting testimonies from witnesses and drawing up legal documents. Clients contact attorneys for any number of legal issues and rely on their firm knowledge of the law as well as their discretion. A lawyer's work is often grueling, involving long hours at the office.
14. Taxi Driver
Taxi drivers get passengers where they need to go with minimal hassle. Generally, they use a meter to determine fares and may pick up passengers who have requested a cab through the central dispatch or who are waiting for a ride at airports, train stations and hotels.
In big cities, cab drivers frequently pick up passengers who hail them on the street. And these days, passengers may even 'e-hail' cabs using smartphone apps. If you're a taxi driver, you never know who might get into the back of your cab – you could drive a family with kids, a political figure or a circus clown.
The rise in ride-hailing apps, like Lyft and Uber, have added more options for people to get around. Passengers use a smartphone app to request a ride, and they're made aware of the fare before they take the trip. Unlike a taxi service, drivers for ride-hailing apps use their own vehicles to transport riders.
15. Public Service Professionals
From doctors to public serviced professionals such as those who work law enforcement jobs, like many of these jobs will remain in demand and in and in many cases, in more demand. These positions are among those chosen as the best careers in America due to being the highest paid, the less-stressful, older professionals retiring, and other factors.