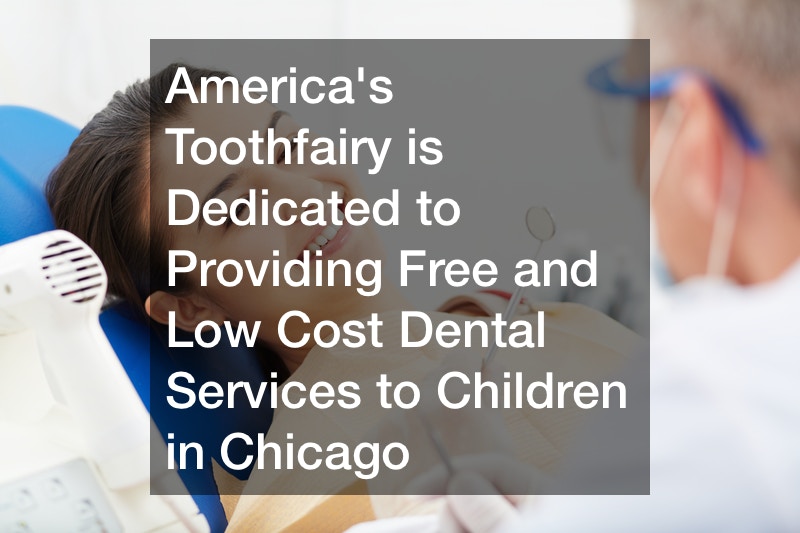 The mission of America's Tooth Fairy is to provide access to dental healthcare in areas where the need is greatest. The organization works with local dentists, hospitals, and volunteer groups to …
The mission of America's Tooth Fairy is to provide access to dental healthcare in areas where the need is greatest. The organization works with local dentists, hospitals, and volunteer groups to enhance access by providing low-cost or free dental care or medications. The organization requires donations from the public to provide such services nationwide.
Many children often feel uncomfortable going to a dentist. That's why America's Tooth Fairy needs help from sponsors and donors. People interested in helping this program should visit America's Tooth fairy online to find out how they can support their efforts.
Importance of Regular Dental Examinations
Dental examinations are vital for a child's health and wellness. Dental care health is essential for children who are below the age of five. America's Tooth Fairy offers various services to help parents ensure that their little ones' teeth remain healthy. Dental issues often lead to medical problems and even death, so parents should emphasize these matters.
The benefits of regular dental checkups and examinations include preventing tooth decay and cavities and avoiding any problems related to gums and teeth in the future. It also stops tooth loss and avoids the need for dentures in adulthood. Children under five should have dental checkups at least twice a year. Regular visits are beneficial to the health and well-being of everyone involved.
You can get dental care services for children through one-on-one appointments with a dentist or dental hygienist. Parents can also send their children to visit an America's Tooth fairy clinic, where their children will have access to free dental screening and educational materials. The main goal of these clinics is to educate the public about good dental hygiene practices. Some clinics offer more comprehensive care than can be provided by regular practitioners. America's Tooth Fairy offers these services at a low cost.
Studies have shown that poor oral health is associated with several more serious medical conditions and even premature death in adults. According to the Center for Disease Control, grown-ups who did not visit a dentist and remain healthy were more likely to die prematurely or become seriously ill than adults who had access to regular care and checkups. Thus, it's essential to ensure that children and adults visit the dental office regularly.
America's Tooth Fairy provides free and low-cost dental services in Chicago with the help of sponsors and donors. It's good for everyone to go for regular checkups and examinations at least twice a year. America's Tooth fairy provides four types of services:
Emergency Care
America's Tooth Fairy aims to provide immediate or delayed dental care to children suffering from severe toothaches, fractures, or abscesses. The program has set up dental clinics all over the country so that children can receive treatment within 24 hours of their application.
All general dental treatments such as fillings, gum problems, and even cosmetic dentistry get treated.
Any emergency dental services are required to ensure their patient's oral health is maintained. It includes emergency tooth extraction, emergency root canal surgery, fillings, dental crowns, and even tooth implants. They also have a treatment plan to ensure patients can maintain their oral health after fixing the problem.
The Tooth fairy offers a wide range of services and can treat even the most complex dental problems. These services are much more affordable than a trip to the local hospital and take less time than visiting your local dentist near you.
Emergency dental care services are an excellent program for people with an unexpected dental emergency. It can help anyone who does not have a dentist or insurance to pay for their dental work. The program helps with emergency dentistry, low-cost dentures, and other services. It can be the perfect option for parents who have children that may need immediate attention for a toothache.
One of the primary components of emergency dental care services is access to free preventative care from different dental offices around the state. Dozens of dentists offer this. They will also provide valuable information on emergency dental clinics near you.
Another benefit of using an emergency dental service is that it can help you find a dentist sooner rather than later. Many times people do not have a dentist because they have not been able to find one that works with their insurance plan or cannot afford the fees for a private dentist. This program allows the caregivers to search for a clinic that fits both needs.
One of the critical components of emergency dental care services is that they can help with emergency dentures. If you have lost a tooth or cannot afford to replace your broken dentures, this program can help you replace them until you can get new ones. Emergency dental services will provide a dentist to make these replicas of your original dentures as soon as possible.
Free Preventive Care
It is a type of dental care service aimed at providing routine dental care for children to prevent future issues with their teeth and gums. America's Tooth Fairy offers free or discounted services to help families save money on their dental bills.
Regarding having a cavity, kids are not so different from adults. But this doesn't mean that they should be as concerned about their dental health as an adult who has had the time and means to tackle the problem of tooth decay.
Children of all ages need to have regular visits with a dentist. These can lead to other problems if left untreated over long periods. Oral health for youngsters protects them against broken teeth, cavities, and tooth decay.
While it is accurate that some children may have to visit the dentist only a few times throughout their childhood, plenty of others will need dental care throughout their lives. And there's no reason they shouldn't receive the same assistance as adults who may have compromised teeth and gums due to advanced age or other health problems.
Many children throughout the country lack access to a dental professional simply due to their inability to afford it. But to eliminate this problem, the first step is for parents and guardians of children who need dental care to see if any such programs are in their area.
Long-Term Treatment
It is a long-term process in which America's Tooth Fairy works with private dentists to provide children with cheap dental care procedures. These procedures include extractions, root canals, braces, restorations, and more.
Many parents look for ways to help their children afford dental care. One way is by setting up a long-term care plan. Long-term dental treatment services allow kids to get the dental care they need at an affordable cost for their families. It gives them the tools to help children get the dental care they need and deserve. Many people feel that this is one of the best ways to help children get dentures before they even hit their teens so they can afford them later.
Long-term dental treatment services are an excellent way for parents with kids needing dental care to give back and do something for their family at a much smaller cost than usual. These are usually affordable plans sponsored by dental insurance companies or by Medicare. The plans typically provide dental coverage that may be more affordable than other plans offered in the market.
Dentistry will offer children's benefits fixed payments for children's dental treatment with a chosen dentist network. The long-term dental plans provide primary and preventative services, fill cavities, root canals and bridges, crowns, dentures, oral surgery, and oral examinations. Some of these plans allow families to choose a specific scheme covering all their needs or a particular program for their kids.
A child's health is essential and presents itself in many aspects, not just in academics but also personally. Parents concerned about their children's oral health often worry about the cost of having their children's teeth protected. Long-term dental treatment plans are also an excellent way for parents to create an investment for their children.
Free Educational Materials
America's Tooth Fairy is a not-for-profit charitable organization that promotes access to dental care through dental events, educational materials, and community partnerships. The program also provides free educational materials for children to learn about their teeth. The materials offer tips on taking good care of their teeth and keeping them healthy.
Oral health education is also significant in preventing dental and other oral diseases. Tools offered at no cost include educational pamphlets and fliers to low-income families. The materials contain helpful information about teeth, oral health, mouth pain, and dental diseases, which will help them know how to care for their teeth properly. These materials must be given to the children or printed out and given to the mothers or parents for them to read.
All children need to have a solid and healthy jaw. A child with a weak jaw may feel uncomfortable talking and eating and may need orthodontic work to correct the problem. Free dental education materials about tooth brushing and breathing through your nose will teach your children about their teeth and mouth and help them make healthier choices for the future.
Keeping your mouth clean is critical for good oral health, but it can be difficult for your child to remember to do this. There are many ways to help encourage good oral health habits in children. Diet etiquette is an essential topic for kids of all ages. Even if your child doesn't have braces, it can be tough to teach them not to eat at their desk and how to eat with a fork instead of a spoon. Teaching them about dental health is also good because after-restaurant snacks and junk foods can hurt the teeth.
Teaching children about proper brushing techniques is one of the most important ways parents can help with dental health for their children.
The Purpose of America's Tooth Fairy
This fairy aims to improve dental access for underprivileged children throughout the country and help them understand the importance of proper oral care. With this in mind, the children receive free dental care, which allows them to develop a positive attitude towards their health. The program also aims to instill the importance of oral health in people through education and spreading a healthy lifestyle.
America's Tooth Fairy understands that children want to be in charge of their oral hygiene and are capable of doing this themselves. Parents don't have the money daily to buy expensive products for their children when they need them. Sometimes families have a hard time paying for food and other necessities. America's Tooth fairy makes affordable dental care available to children who need it.
The Tooth Fairy provides partial funding for children with financial needs or who are uninsured, which includes uninsured children, military-dependent children, and some other financially challenged children. No child asking for a tooth in the morning will be turned away because of a lack of money.
The Tooth Fairy may also assist children who are not entirely financially stable, preventing these children from going without dental care for a month or more. Children rely on the Tooth Fairy to avoid the painful effects of periodontal disease, caused by bacteria that feed on plaque and tartar buildup. It can also lead to gingivitis if left untreated. The Tooth Fairy provides the money to those who do not have access to a periodontal dentist or dental plan through their employer.
In conclusion, America's Tooth fairy is breaking the cycle of families unable to afford dental care. On another note, America's Tooth Fairy is helping people across the United States by providing affordable dental care.
America's Tooth Fairy is a pediatric dental care company dedicated to providing families with affordable, comprehensive dental care while helping to put the power back into their hands. It believes that the best way to achieve this is through personal outreach in communities, such as those living in underserved areas, military members, and their family members.
In addition to these outreach efforts, America's Tooth Fairy also offers more affordable options for those who don't have convenient access to a dentist or don't want to visit one often. This new program, called America's Everyday Dentist, is a personal and scheduling service that helps ensure that families can take care of their teeth at the most convenient time.
America's Tooth Fairy is not just for kids. It's also a supplementary tool for adults looking to save money on certain medical expenses. It includes affordable dental care that doesn't break the bank or significantly strain the family budget.