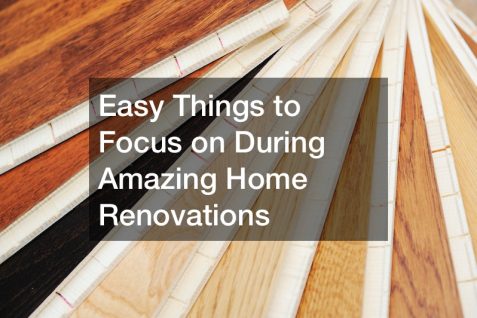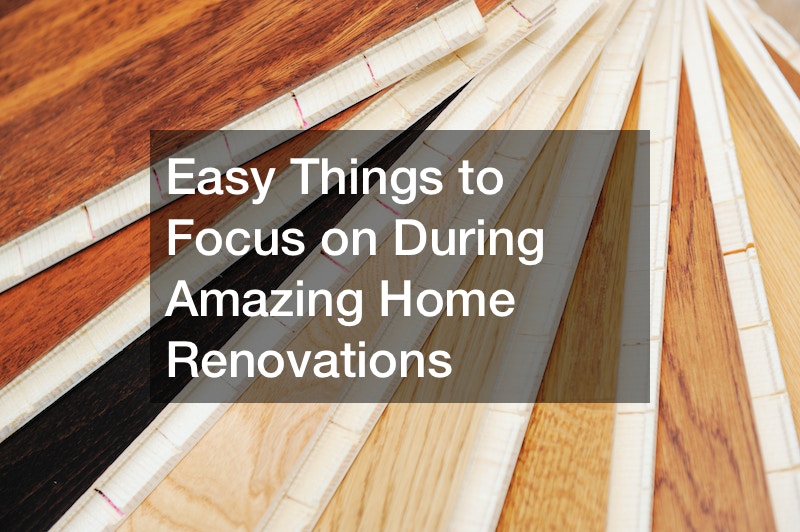 Renovation projects are usually stressful and demanding because they disrupt your regular schedule and cost money. However, the way your home looks and its features can say a lot about you …
Renovation projects are usually stressful and demanding because they disrupt your regular schedule and cost money. However, the way your home looks and its features can say a lot about you and your taste in style, so it's essential to give these things some thought. It is possible to make amazing home renovations without breaking the bank.
Even subtle, well-planned adjustments or quick do-it-yourself projects can significantly impact the value and appeal of your home. The following list of simple yet amazing home renovations can assist you in enhancing the appearance of your property and its value without requiring you to spend excessive money.
Add a New Coat of Paint
It is unnecessary to perform a full-scale remodel of your home to raise its appeal and market value. One of the best ways to improve your home is to give it a fresh coat of paint, which is one of the most effortless yet amazing home renovations.
A new coat of paint can make your home better looking, cleaner, and brighter, which can help unlock up space and give the impression that there is more room than there is. The shade of paint you apply onto the walls will constantly affect the amount of light reflected off those walls, regardless of whether or not the room has windows.
House painting on the exterior offers many of the same benefits as renovating the interior of your home. A decent exterior painting job should last at least ten to fifteen years. A good coat of exterior paint acts as an additional layer of defense against the environment.
It assists in preventing damage to your home caused by weather changes, pests, and dust. Therefore, investing in high-quality exterior paint today might save money on costly repairs later. Higher-end paints provide benefits such as increased durability and more coverage per gallon, making them worthwhile investments. However, high-quality paints come at a cost.
If you're looking for ways to increase the appearance of your home without busting your budget in the process, many budget-friendly choices are available, and they will still add some glitz and make your home look fresh and new.
Roof Renovation
The roof is among the most crucial components of your home, so you must care for and maintain it properly. When you consider that its principal function is to shield you from the terrible weather outside, it stands to reason that if it isn't performing up to par, it will no longer accomplish its job effectively.
Investing time and energy into improving the appearance of your roof is one of the most rewarding amazing home renovations you can undertake. Moreover, if your roof looks old and worn, with fading color and cracked shingles, you will want to change that. You could also invest in renovating your roof to look new if you are selling your home and want to increase its value or you want your home to stand out from the rest on the block.
All you need to remedy the issue may be a good pressure washing of the roof. In other circumstances, such as when there is rust in the roof sheets, applying a fresh coat of paint might be enough to solve the problem. On the other hand, the worn and weathered appearance of your roof may also indicate damage that requires restoration.
It is in your best interest to make roof repairs as soon as possible rather than waiting until major issues arise. If you decide to put off making a decision, it could end up costing you a lot more money in the long run. For instance, if you wait too long, your home could sustain damage from mold and leaks. There will always be the need for some roof care, no matter the type of roofing materials used.
Unlike a bathroom or kitchen renovation, a roof makeover isn't quite as exciting. Inspect your roof at least twice every year, and if there are any problems, seek the assistance of roofing contractors for repair or replacement.
Change the Doors and Windows
Bringing your home up to date can be a gratifying endeavor, and you will likely feel a great deal of excitement as you anticipate the changes to your property because of your renovations. Replacing old doors and windows in your home will not significantly impact your ability to go about your routine or cause any adverse effects.
Investing in new windows may make a room appear more spacious and brighter. Additionally, installing new windows is a simple and cost-effective approach to breathing new life into any space. It will add greater value to your home if you preserve original elements like sash windows rather than just substituting them with an industry-standard design.
A door can significantly impact the appearance of the newly remodeled property. It is strongly advised that you spend your time and carefully study the various door solutions available on the market. A door that does not fit properly or a product that is of low quality might expose you to the possibility of leaks, cold drafts, and even break-ins.
In addition, if your home requires significant repairs, it is in your best interest to seek the guidance of an experienced home remodeling contractor before making any decisions. Upgrading the windows and doors is one of the most amazing home renovations and a great place to begin when upgrading an older house.
Change the Flooring
Changing your home's flooring can dramatically impact its curb appeal without breaking the bank, making it one of the most amazing home renovations. Even if you believe hardwood or tile is the best option for your home, numerous less costly alternatives are available. For instance, the cost of installing an engineered wood floor is typically far lower than that of installing a hardwood floor made from natural wood of the same size and species.
It is also a good idea to investigate new flooring options such as carpet, particularly if you do not currently have this type of flooring. Experts in home renovation can give your home a dramatic makeover by installing carpet, which also has practical benefits, including reducing noise.
DIY if you need to upgrade your flooring but can't afford to hire a professional. Renovating your flooring will be one of the best investments you make for your home improvement budget, regardless of the path you choose to pursue.
Put Some Effort Into the Fireplace
One of the most amazing home renovations, and one that you should not overlook, is updating the fireplace. When you walk into a living room, the fireplace is the first thing you see. It can have a solid or subtle presence, but it is a focal point in either case. Additionally, the fireplace is a crucial element that can change the room's mood, comfort, and aesthetic.
Even though the decision to change the fireplace wall is primarily one of personal taste, it is only logical that you would like this component and all surrounding it to be in harmony with the rest of your house. In addition, modernizing your fireplace is an investment that brings many benefits and does not require you to spend excessive money on it.
A comprehensive fireplace repair and maintenance will give it a new look, better functionality, and make it safer to use. If you ever have to sell your property, having it remodeled by a professional can help you get more money.
Applying a new coat of paint, installing a mantle and trim, adding electric or gas inserts, or removing the fireplace and rebuilding it in a more modern style are some of the most effective methods for renovating a fireplace. If you want to modernize your fireplace but aren't sure where to begin the process, you could get in touch with a professional fireplace company to get some suggestions from them.
Make Some Changes to the Outdoor Patio Area
Renovating your outdoor patio is one of the most amazing home renovations you can undertake since it has the potential to alter your backyard and provide you with excellent returns ultimately. You can easily construct a welcoming patio ideal for entertaining guests, hosting get-togethers with family and friends, and simply unwinding with careful design and the advice of an experienced backyard renovation contractor.
Adding fashionable decorations to your patio can improve its functionality and aesthetic appeal. Your backyard space can substantially improve by adding eye-catching decor and side tables with one-of-a-kind designs and color combinations. In addition, you can improve the design of your space by incorporating accessory items such as flowers, flowerpots, carpets, and furniture slipcovers.
In most cases, the general appearance of your patio can affect the appearance of your entire property. Long-term use of old furniture should prompt thoughts of replacement. You may make your outside space a fantastic hangout for your loved ones by installing a fireplace or fire pit and portable shades and umbrellas. Your outdoor space will have a completely different appearance and a more unified design when you choose appropriate colors for your patio.
Consider your outdoor materials as an additional fantastic technique to improve the quality of your time spent outside. Ideally, varied outdoor patio designs necessitate unique furnishings and materials. Install some patio paver to enhance the aesthetic appeal of your backyard and patio area.
Paving will create a gorgeous patio or courtyard that will wow your guests when you are entertaining, and they can contribute to the calmness of your yard while you are spending quiet time with only your immediate circle.
The restoration will be much simpler and less stressful if you hire a paving contracting professional, even if there are specific little jobs you can complete on your own. If you decide to deal with professionals, they will assist you in obtaining the most effective exterior renovation ideas, turning your backyard into a place you will like spending time in.
Work on the Landscaping
A home's curb appeal is that intangible quality that makes you want to take a closer look at it. It combines aesthetic appeal, careful maintenance, and dedication to excellence. Landscaping can decide the outcome of a transaction. Many potential buyers will dismiss your property without even looking inside if it does not have an appealing outside, or they will attempt to negotiate a lower price with you.
One of the most amazing home renovations you can carry out is giving your landscape a facelift, whether you intend to sell your house or want to spend money improving your property. Your property's worth and liveliness will increase with the addition of vibrant foliage. Be sure to select plants for your landscaping with the appropriate sunlight, soil, and water requirements. Keeping them alive will require much extra work and money if you don't.
One of the simplest and most cost-effective methods to spruce up what you currently have is to add true curb appeal to your home. You can accomplish this by including fresh mulch in plant beds, tree trimming or removal, stump grinding, pruning shrubs, eliminating weeds, and uprooting dead and withered plants.
After stump grinding, use the space for something else, such as a new patch of sod or a flower bed. A side benefit of using a stump grinder is the production of mulch, which you can put to various applications around the grounds.
It's surprising how much of a difference even those seemingly insignificant actions can make. On the other hand, it is best to perform landscape renovations in stages instead of doing it all at once. In the same way that it is less expensive to make repairs when required, rather than putting things off until the whole property is in disrepair, you should take care of matters as they become necessary.
Taking this strategy also ensures that your property maintains its pristine appearance. Get in touch with several landscaping designers or contractors if you want the very finest ideas for your yard.
Lastly, you can find countless ideas for amazing home renovations if you know where to look. The tips mentioned above can serve as a take-off point for planning a home improvement project that suits your style without breaking the bank.