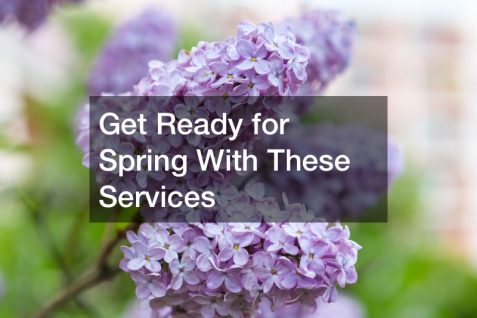 As the snow melts and winter finally disappears for at least a few months, it's crucial to prepare for spring. People often spend this season focusing on renewal and improving life …
As the snow melts and winter finally disappears for at least a few months, it's crucial to prepare for spring. People often spend this season focusing on renewal and improving life in various subtle ways. Thankfully, there are several steps that you can take to enjoy spring as much as possible. Follow the guide below to prepare for the new season and make your life more exciting.
Set Your Children Up for Success
The first step you should take when preparing for spring is to ensure your children are ready. This is relatively easy but involves several different stages. The right approach will give your young ones the support they need during their early years.
For instance, you may want to ensure that they've received all necessary vaccination shots before spring rolls around. The sometimes unpredictable weather in this season can contribute to colds and cases of the flu. Getting their shots can help protect them from sickness and keep them in school.
Next, you need to find childcare options for those days when you can't watch your young ones. For example, daycare centers may be helpful when you work during the afternoon or if you go on a trip without your children. These facilities can keep your kids safe and entertained for many hours.
After taking this step, consider preparing your child for the next school year. This may involve researching new educational topics, buying school gear while it's cheap, or signing them up for sports and other activities. This will free up more time for fun during the summer.
On that note, you can ask your children what they want to do during the summer and make plans. These activities may include traveling to tourist destinations or playing summer sports. Making these plans in the spring ensures that your children are ready when the time comes.
Fix Up Your House
Now that your children are prepared for the upcoming seasons, it's essential to work on your home. As you get ready for spring, you should focus on repairing the harm caused by winter weather. Cold temperatures, snow, and ice can damage a home and necessitate various repairs.
For example, you may need HVAC repairs to upgrade your heating and cooling system. It likely worked long hours during the winter and may need some TLC. Repairing the unit, patching leaks in air ducts, and other improvements can help ensure it runs smoothly in the spring and fall.
You may also need electrical repairs if you notice any operational issues while you get ready for spring. These projects might include wiring upgrades, fixture replacement, or upgrades to your circuit breakers. Hire an electrician for a full-home inspection to ensure you find any potential issues.
After getting electrical repairs, call a plumbing company to get help with water-related problems. If you notice any pipe leaks, you may need help from a skilled plumbing team. This step not only protects your home from damage but decreases water bills as well.
These actions become important after winter because cold temperatures may cause subtle damage to your pipes. A full-home plumbing inspection will ensure that you identify these problems more quickly. It also provides the help needed to keep your system fully operational for years to come.
Sell Your Old Stuff
Clutter removal and general cleaning are usually necessary when preparing for spring. During the winter, people often stay home and surround themselves with too much clutter. A good cleaning can make your home feel more comfortable and even produce a little extra money if you take the proper steps.
For example, metal recyclers take any old metal in your home, pay you for it, and recycle it into new materials. You're likely to make only a little money this way, but every bit helps. It also eliminates old junk and gives your home a less cluttered feel.
Next, you can sell any excess belongings that might hold value. Among other things, these items may include electronics that you rarely use, books, and old appliances. Go through your home, inspect its contents, and hold a big garage sale to get rid of everything that you don't want anymore.
After selling every item of significant value, start donating things. Thrift stores like Saint Vincent De Paul and Goodwill accept just about anything you might donate. They fund their nonprofit organizations by selling donated merchandise at reasonable prices to people who may have little money.
These steps help you get ready for spring by getting rid of things you don't need and making your home's interior cleaner. They can also eliminate the clutter that may exist in your yard. There's nothing better than starting spring and summer with a clean and comfortable house.
Take Care of Your Health
As spring rolls around, you deserve to be healthy enough to enjoy it. As a result, you should talk with doctors, dentists, and other medical professionals as you get ready for spring. Doing so can ensure that you and your family are in great shape for the warmest parts of the year.
First, start by scheduling a visit with your general care practitioner. This physician will check you and your children for common ailments and provide a general checkup. Next, you can get help with diet and exercise plans to ensure a healthier lifestyle.
You should also visit a provider of dental services to check for common oral health issues. These problems include cavities, gum disease, and misaligned teeth. Your children may need orthodontic help, though you might even get braces as an adult if you need them.
As you get older, you should visit hearing aid clinics to check for signs of hearing damage. The world is full of thunderous noise, and regular visits to hearing experts can reveal potential problems. You could also make sure that your children's hearing is developing correctly.
Taking these steps will help you get ready for spring in healthy ways and improve your family's overall health. Furthermore, preventive medical care can reveal signs of problems before they turn into illnesses or serious health conditions. This way, your family can enjoy spring and summer with greater ease.
Enjoy the Outdoors
As you get ready for spring, the world is changing around you. Snow is melting, trees are coming back to life, animals are returning from hibernation, and the grass is turning green again. You deserve to enjoy the beauty of the outdoors during the warmest parts of the year.
For example, you can go somewhere that you've never been, such as the mountains or a hiking trail. Explore these places with your friends and family to get fresh air and feel better about yourself. According to our sources, people can manage some types of anxiety and depression symptoms by spending time outdoors.
Remember to consider destinations like water and amusement parks or lakes where you can swim and camp. If you live near the Great Lakes, camping on their shores is a beautiful way to get outdoors. There are many campgrounds in Michigan and neighboring states where you can enjoy these lakes.
Even if you don't camp or travel, you can sit outside with your children, work in the garden, or otherwise enjoy outdoor time. So grab your favorite book and a lawn chair so that you can sit on your deck for hours, soaking in some sun. Ultraviolet rays help produce higher vitamin D levels and improve your mood.
Remember to hire professionals like tree trimming services to keep your yard in great shape. This step is essential because it can help manage overhanging limbs and other potential dangers. Just as significantly, a trimming service could tighten up shrubs and other plants while keeping them strong.
Take Your Relationship to the Next Level
They say that spring is the season of love, and there's a lot of truth to that. After all, many animals start their mating seasons during this season, while trees and plants begin growing. As you prepare for spring, you should push your relationship to the next stage and make it unforgettable.
For example, you can plan a getaway to a place that you've never visited. You could even spend time together hiking and exploring the world on foot. These options can help you and your partner feel more connected while improving your relationship.
If you have young ones, you can engage with them in various ways at the same time. For instance, you can take kids along on your trips or start planning more family-oriented vacations. These steps may help you feel more connected as a family and make life more enjoyable.
If you're ready, consider buying engagement rings to pledge your love to your partner. Of course, that's a big step that needs to be carefully considered. However, it's worth it if you want to be with someone for the rest of your life. You can then take other steps to ensure you stay together as long as possible.
One option is to move in together, which is a better step to take during the spring than in other seasons. You'll be too busy having fun together in the summer, and the weather is usually bad for moving in the fall and winter. Even better, you'll have time to get used to each other before those indoor seasons arrive.
Host an Event
As you get ready for spring, you deserve to have more fun. You can, thankfully, create your own by hosting a big event. People who host events are often popular in their neighborhoods, and they can choose various options that make this experience more enjoyable.
You could host many events, including outdoor barbecues, concerts, and more. It all depends on your neighborhood, what your city allows, and what kinds of activities you like. As you get ready for spring, you can plan just about anything that you think you'll enjoy.
You could also save yourself a little trouble by calling a catering service to help with the food. This step can streamline the process immeasurably. Rather than relying on your cooking, you can get professionally prepared meals that your whole neighborhood will love.
So, sit down with your neighbors and consider planning a block party. This option is brilliant because it gets far more people involved. As a result, you'll meet people you wouldn't have otherwise met and possibly create a new tradition that makes living in your area more fun every year.
Just as significantly, you can help connect local people who may not know each other. For instance, your children might make new friends and even find work with neighbors. So, be sure to plan a big event that brings together as many people as possible this spring or summer.
Care for Your Loved Ones
As you prepare for spring, you might notice some loved ones struggling. Sadly, it's all too common for people to struggle in life. Thankfully, you can take various steps to support them and even provide solutions to some of their problems.
For instance, elderly care services are often essential for older people in your life. If your parents need extra help, an in-home care specialist can assist them. Even elderly daycare options can make their lives easier by helping them when you're out of town.
Make sure you pay attention to everyone's needs when taking these steps. For example, you should consider friends struggling with financial or emotional issues. Find ways to support them, such as paying them to perform certain tasks or talking to them if they need attention.
By taking these steps, you can help ensure that everyone in your life is better prepared for the season. While you can't address everyone's problems, solving a few could be quite beneficial. Just as significantly, it can minimize crises later in the year and make your life easier as well.
Take these steps to get ready for spring properly. If you don't feel comfortable performing some of these tasks yourself, contact professionals who can help. Often, they have spring-oriented services that make these projects quicker and easier. But, just as importantly, they can offer professional attention that ensures everything goes smoothly. So don't hesitate to make a call now to get the best results possible as you get ready for spring.