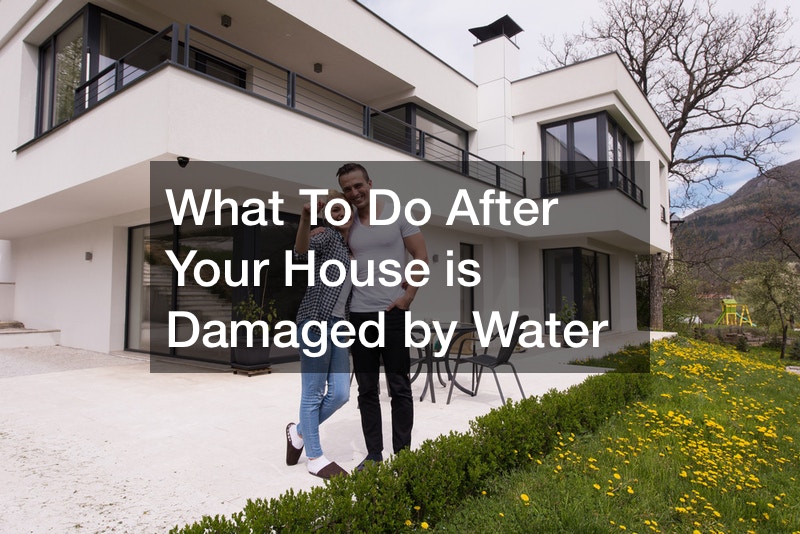 When your home experiences water damage, it can seem like the worst thing to happen. Maybe you're seeing water stains everywhere and wondering how to get rid of the moisture. The …
When your home experiences water damage, it can seem like the worst thing to happen. Maybe you're seeing water stains everywhere and wondering how to get rid of the moisture. The sooner you can start thinking about water damage repair, the better. While it can be stressful to know that your home has suffered water damage, the best course of action is to immediately take steps to reverse the damage. Since it can be overwhelming, you need an action plan that's easy to follow and which you can implement quickly. To help you out, here's a quick guide on what to do after your house is damaged by water.
Act Quickly
It can't be said enough that you need to act quickly once water damage happens. That's because the effects of water damage become evident quickly. Leaks can spread quickly through your home, and the moisture will soak into anything that can absorb water. For instance, water can easily penetrate your carpets, the walls, books, and the ceiling, resulting in severe damage. The extent of the damage typically depends on the type of water that's causing the damage. There's clean water, which comes from rain or pipes and is easy to clean up. There's gray water, which is slightly contaminated water from clean toilets and washing machines. Last but not least, there's black water, which usually comes from sewage.
Water damage caused by black water requires emergency water damage restoration because it creates a potentially hazardous situation. In any case, regardless of the type of water damage you have, you'll find that it doesn't take very long for water to cause damage once it penetrates your home. For instance, you can see the signs of water damage within the first 24 hours. The most common signs to watch out for are crackling, bubbling, and flaking paint. Dark or wet spots will also appear on your ceiling or walls. As water damage progresses, a damp, musty, or mold smell will evade the house. Over the long term, furniture may start bulging and swelling along with doors and windows. Metal surfaces will also tarnish, rust, or corrode. By acting quickly, you can avoid costly and complicated water damage repairs.
Contact Your Insurance Company
This is one of the key steps to follow after there's water damage in your home. This is especially so if there's significant water damage that will be expensive to fix. However, you first need to check your home insurance plan to see what's covered before contacting the insurance company. The good news is most insurance companies cover residential water damage, so act fast by reaching out to your agent and making a claim. If there's significant water damage in your home, you'll need all the help you can get to cover the costs of cleanups, repairs, and new construction.
The reason why you should contact your insurance company before starting the cleanup process is that the insurance company will probably need to send out an adjuster who will assess the extent of the damage first. This assessment is crucial to determining the value of the damage and the amount of compensation you'll receive. Find out how long the insurance company will take to get there, so you know what steps to take next. If you're living in a rented space that's been flooded, you need to call your landlord as soon as possible. Your landlord will then call their insurer to let them know that the home has suffered water damage.
Dry Out The Water-Damaged Area
If there's water damage all over your home, there's a chance that the water damage may have affected your electrical system. In that case, you need to keep everyone safe by turning off the power first. Electricity becomes even more dangerous when mixed with water, so never attempt cleanup while the power is still on. After eliminating this potential hazard, the next step is making sure that the water source responsible for the damage has been stopped or turned off.
For instance, if the damage was caused by a burst pipe, the best thing would be to switch off the water at the mains while waiting for professional plumbing repair. With that out of the way, you then begin the process of drying everything out. This is as simple as going through the water-damaged area and moving everything that's wet to a dry area. If there's a lot of wet material, you can use a dehumidifier to help get rid of the moisture. You can also remove all the water using a powerful wet vacuum. If you have any box fans, you should also switch them on to keep the air circulating and speed up the drying process. The good news is, you will be able to turn on the electricity after an electrical inspection by a qualified contractor.
Check For Signs of Mold
You should always be wary of the risk of mold growing in your home. It's important to know that mold can begin multiplying in your home within 24 hours of water damage. Mold mitigation can help eliminate the need for mold remediation, so make sure you clean and disinfect all affected spaces using an antifungal product. Otherwise, once mold spreads over your home, it can be difficult to remove. To lower the chances of mold growth, you may have to completely remove any traces of moisture where mold is likely to thrive. If you spot any signs of mold, you can contact a professional mold removal company to help restore your home so that it's safe and healthy to live in.
Hire A Professional Plumber
It's common to have water damage from plumbing leaks. In that case, it's necessary to seek the services of plumbing professionals. There are many things that can go wrong with your plumbing system, resulting in water damage. To prevent extensive water damage, you should schedule a professional inspection as soon as you can. The reason for water damage might be caused by drains that are not functioning properly. This usually happens when there's a clog that causes a backup. In that case, you need to approach local drain cleaners to see how they can help. A professional drain clean should be enough to clear the problem unless there's another issue that's the source of the water damage.
Other plumbing issues that can spread to the rest of the home include toilet leaks, which bring sewage into your home, causing health risks. For the best results, have all plumbing leaks professionally inspected and repaired before they can cause more damage to your home. Take action as soon as you notice any discolored spots on your walls and ceilings, as this is a sure-fire way to know there's water damage in your home.
Get A Roof Inspection
Your roof is a potential source of water damage. Therefore, you'll need roofing services and professional roof inspection to establish whether there's a leak on your roof. Typically, roofs become leaky for various reasons, including storm damage and normal wear and tear. This results in shingles that are damaged or missing which in turn means water can now easily seep into your home. The problem with roof leaks is that they can happen without your knowledge, and by the time you notice something, you already have water damage in your home.
One of the easiest ways to know if you have water damage is to go up into your attic on a sunny day and check to see if there are any areas of the roof where light is coming through. If your roof is watertight, you should not be able to see any light rays poking through. If leaks are discovered on your roof, it's essential to get these leaks plugged in as quickly as possible. Otherwise, if a leaky roof is not fixed quickly, more serious problems can develop, such as sagging, rotting wood, and peeling or bubbling paint. If the damage is extensive, you may have to pay for a roof replacement to keep your home protected.
Get Help Cleaning Up
Water damage can leave you with a lot of work on your hands. While water may seem like a harmless thing, it can cause a lot of destruction. While you may be able to DIY the clean-up, the work may prove too much if there's extensive water damage. In that case, consider how janitorial companies can help. By way of example, a well-trained and efficient janitor can help speed up the cleanup process so you can get back to enjoying your usual home environment. Instead of exhausting yourself trying to get everything in order, you can take a step back and let professionals take over the cleaning process.
This includes removing all debris to make sure your place looks tidy. A professional cleaning company will also use a wet vac to start the process of drying out your property. They will help with disinfecting the affected area and removal of anything that might harbor mold. In addition, all surfaces will be wiped down and cleaned with detergents. Enlisting a professional cleaning company to help can yield better results since they already have all the equipment and supplies necessary for a water damage cleanup.
Check the Irrigation In the Garden
If you have irrigation installations, it's possible that this system might be responsible for the water damage in your home, so it's important to go into your garden and inspect the area. While this rarely happens, your irrigation system can cause water damage to your home due to various reasons. For instance, since the sprinkler system is connected to your home's water mainline, it's possible for flooding to occur if a burst pipe goes unnoticed. The water can flood, causing damage to the exterior before slowly seeping into the interior. In addition, if your garden's irrigation system is not properly installed, the pipes that run underground can leak and cause damage if they are installed too close to your home.
Besides faulty irrigation installations, water damage can also happen if you don't have a timer that helps you monitor the schedule of your irrigation system. With proper monitoring, it's all too easy for your irrigation system to end up in your yard and cause spreading water damage. If you discover that your irrigation system is responsible for the water damage, you need to correct the issue and implement preventative solutions to avoid extensive damage in the future. For instance, make sure you always set a time whenever your irrigation system is operating.
Consider A Septic System Inspection
When you have experienced flooding on your property, you might want to get your septic system checked out afterward. It may not be necessary to pump the septic tank immediately, but most cesspool pumping companies can also professionally inspect and service your septic tank if there's damage. You can also get your septic tank professionally cleaned.
If you're not sure what to do with your septic tank system soon after a flood, bringing a professional septic tank service early on can also provide the answers and advice you need. As most professionals will tell you, flooding near your septic tank not only causes water damage but also contaminates nearby water sources. In that case, it's crucial to get your well water tested if you have a well on the property. If the sewage has backed up into the basement, the area needs to be cleaned and disinfected immediately to avoid a potential health hazard.
These are the water damage repair steps you need to know about. Remember, you need to take action right away. While there's a lot you can do to alleviate the damage, keep in mind that with severe water damage, it's essential to get in touch with the pros for help. For instance, with severe water damage, you may have to replace flooring or get mold remediation. These are all big projects that are best left to the professionals. In conclusion, knowing what to do at the first sign of water damage can make a big difference in the outcome and the costs involved. So keep these tips in mind and always be prepared.