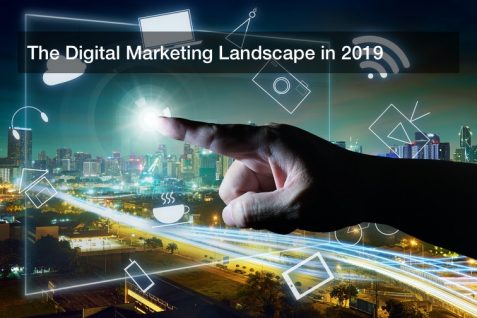 UPDATED 9/17/20 The digital marketing landscape is an ever evolving industry. Each year Google releases hundreds of updates that businesses need to be prepared to adapt to. Often times, they will …
UPDATED 9/17/20
The digital marketing landscape is an ever evolving industry. Each year Google releases hundreds of updates that businesses need to be prepared to adapt to. Often times, they will seek out the advice from digital marketing experts or their web design team to help lay out their yearly strategy. This year we've reached out to a few of the leaders in the industry to get the pulse of digital marketing in 2019.
Content Remains King
"The most effective SEO strategies in 2019 are generating enough high-quality content, promoting that content outside SEO to get links/subscribers, and tagging every campaign and content in Google Analytics for tracking and ROI measurement," says Christine Slocumb of ClarityQuest. "Outside of content, site speed on desktop and mobile is becoming increasingly important."
"Were seeing the convergence of content channels as people browse products on websites, ask for friends' opinions on social media, skim third-party reviews, and watch videos to confirm or deny product quality standards. Thus, it is more crucial than ever that digital retailers make information about their products available via not just one, but all available platforms," echoes Rhodes Kriske of Tekli.
"Neglecting social media posts, search engine profiles, Q&A forums, etc. could cost a business more than expected; whereas, aligning digital marketing channels is going to pay off now more than ever."
Optimize Your Website
"On-site optimization has become increasingly more important in 2019," explains Chris Wielinski of Think Cre8tive. "Making sure that each part of your website is optimized for Google will elevate your off-page efforts and make sure your organic profile as a whole is as optimized as can be for ultimate impact."
Focus On Conversion Rate
"2019 has been a difficult year for many UK businesses, as uncertain investors pull out of the UK market," echoes Tom Brand of Found. "ROI is now more important than ever, which means SEO strategies which involve user experience and conversion rate optimization tactics will have the edge, driving more revenue for businesses struggling internally with investment and budgets. It'll be all about making more revenue from the customer base you have to ensure financial stability."
Welcome Voice Search
"We think its time to start including a strategy for voice searches in your marketing mix," describes Matt Kreikemeier of Leverage. "With something like 100 billion Google searches per month, search marketing is definitely a place to operate, but those searches are gradually shifting to voice devices like Alexa, Siri, and Google Assistant (estimated 50% by 2020). Its not too late to be on the forefront of optimizing for voice search."
Speed Matters
"The most effective SEO strategies for SEO include site speed, fresh content, rich snippets and brand building indicators. As most people know mobile has grown massively over the last 10+ years. As a result Google wants the fastest websites possible for both its Organic and Paid search listings," states Robert Stoubos of Odyssey New Media. "Fresh content for services/product pages with images and video integrated is essential to keep mobile users interested. Rich snippets are becoming more and more essential in order to provide the richest SERP experience possible. Finally, brand building indicators via offsite backlink placements, key directories and key social networks are also essential. These combined can help websites dominate in the search results."
Well Executed SEO Strategy
"I always tell my clients, building a great website is only part of the equation. Without implementing SEO, your investment in the development of the site is a waste, and won't do anything to grow your business," describes Stacie Benefield of Dynamic Designs NW. "If no one can find your site, what good is it to you or your customers? It's like building a huge department store, and never putting it on the map, so the only way people will find it is by chance. These days, if you want the right people to visit your site, a well-executed SEO strategy is a must."
"Keep it Simple. Achieving great SEO results isn't about "outsmarting Google," or "gaming the system." Rather than trying to implement wild or off-the-wall tactics, the best way to ensure SEO success is to adopt a simple, effective approach and to follow through," states Chans Weber of Leap Clixx. "Quality content, engaging images, and consistent production will deliver more meaningful SEO results than any flash-in-the-pan fad will. When in doubt, keep it simple."
Use A Deliberate Strategy
"Implementing an effective SEO strategy takes deliberate effort targeted across digital platforms using various age-old and newly emerged techniques in a consistent manner," says Ashley Rickman of Reladyne. "A comprehensive approach that combines classic keyword-rich copy, persistent social media presence, and quality backlinking with recently emphasized mobile-first indexing and page speed, as well as adherence to GDPR requirements will create a winning strategy for SEO. Establishing and maintaining a strong recognizable brand footprint across the digital landscape will heighten the success of these aforementioned SEO techniques."
"Marketing before was a bit of a guessing game. With data and analytics, we now have the ability to know what customers are thinking and deliver what they really want," explains John Monte of Wegacha. "Technology now allows us to work within a new system that's based on creating value through personalized customer experiences."
"Were finally seeing a focus on more than just "ranking" but rather on converting existing traffic, and that results in a much quicker ROI for most clients," mentions Adam Lewis of Xponex.
Utilize Data Providers
"One of my favorite strategies for quickly improving organic traffic is by running a domain overview in SEM Rush to find keyword already showing in the SERPs, then developing both an on-page and off-page strategy to improve existing keyword rankings," echoes Chris Mitchell of Intelius. "I've also found that refreshing old blog post with updated, relevant content is a quick way to increase search traffic. When creating new content, I get great results by finding new blog topics using Answer The Public, finding out who ranks #1 for that topic, then developing a blog post to outperform the article on value, content length, and on-page SEO."
Online Media Marketing
Before starting a digital marketing campaign it is important to understand what digital marketing involves. Finding experienced help with digital marketing is only possible when you know the right questions to ask. If phrases like SEO and PPC are completely foreign, you will certainly have trouble asking the right questions when looking for someone to run with your online media marketing campaign.
What digital marketing involves is the editing of websites in order to better appear in search engine results.  This editing can take place in the content as well as in the more technical side of the site. When you are looking for help with digital marketing, the first thing you need to determine is if you need someone to help with content production or web design services. These are two completely different skillsets. Being able to find someone who is able to compose and edit keyword rich content and finding someone who is able to make a responsive website that adheres to Google's guidelines are two very different actions.
Learning how to best leverage the use of digital media in marketing is a great way to deliver results for your customers. The question of the effect of drinks containing alcohol and stimulating pills on the body was studied at the scientific level and scientists came to the https://medimagery.com/buy-viagra-online-generic-viagra-sildenafil/ conclusion that you can mix Viagra and alcohol if necessary. In this case, the dose of vodka should not be more than 100 g. Once you learn about online media marketing and what it entails, you will be in a better place to find help with digital marketing and bring your business to the next level.