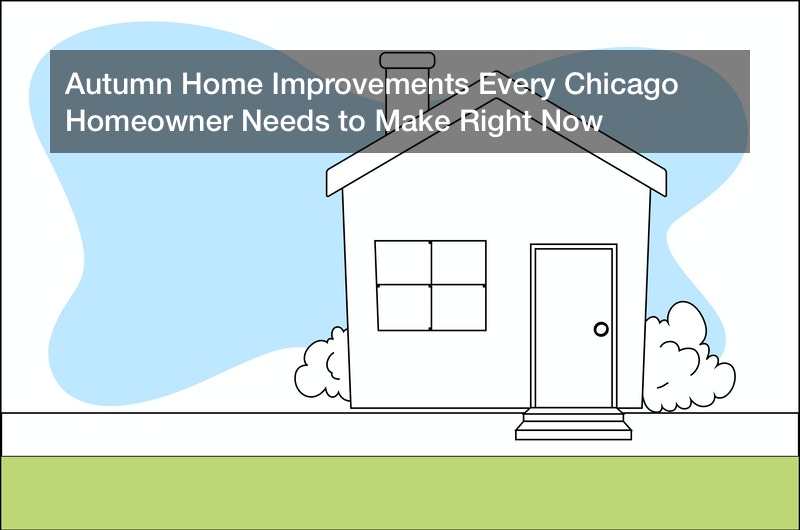 Now that fall has arrived, it's the perfect time to get your home ready for the harsh winter season. Many homeowners spend up to 4% of the value of their home each year on repairs. Contractors are more readily available this time of year, making it an opportune time to save money while making sure you're ready for the ice and snow. Here are autumn home Improvements every Chicago homeowner needs to make right now.
Hardscaping Touch-Ups
Preserving the hardscaping around your home is a crucial item for your autumn home improvements list. You may want to consider consulting with an architectural firm for advice on any hardscaping touch-ups you may need to do. Clean patios and walkways thoroughly to prevent debris from causing stains during the winter months. Check for weaknesses and potential damage on older wood surfaces such as a deck. Apply sealers to wood and concrete surfaces to protect them from moisture and ice melt.
Hire asphalt paving services to seal any cracks in your sidewalks and driveway. If you are planning on installing any new hardscaping elements, now is the time to do so. This will give the hardscaping elements enough time to settle in before the snow starts to fall. If you are laying down stonework, the cooler fall weather can make it ideal to move and place heavy stones. Make sure that hardscaping elements allow for proper water runoff so that standing water doesn't develop that could ruin the structures.
Roofing Repairs
Before colder weather arrives, you want to make sure that any necessary roof repairs are done to ensure your home stays warm and dry. The first step is to have an inspection performed by a licensed roofing professional to detect any potential problems. The roofing professional can determine if you need a new roof or just a few minor repairs. You will want to replace any missing or damaged shingles and look for signs of water damage.
Roofing repairs are also essential when it comes to autumn home improvements to prevent rodents from easy access to your home. These pests can see your home as an inviting place to be as the weather gets colder. You will also want to make sure to trim any trees to prevent branches from scraping and damaging shingles during storms. Making sure your roof is in excellent shape will also help you save money on your winter utility bills.
Awning Storage
If you have a retractable awning or one that you can take down, it's time to prep it for winter storage. Brush off any dirt and leaves and use mild soap and water to wash it. Make sure it is completely dry before putting it in storage to prevent mold and mildew growth. Roll up the awning evenly to prevent creases and check nuts and bolts for signs of rust and to make sure they are secure. Store in a clean and dry place with a winter cover.
HVAC Inspections
Another important item for autumn home improvements is ensuring that your heating and air conditioning system is working properly. Have an inspection and cleaning done by a licensed HVAC professional. You may want to consider purchasing an HVAC maintenance plan to save money on inspections and obtaining priority service during an emergency. Replace filters and make sure your outdoor unit is clear of any leaves or debris. Make sure that vents aren't blocked by furniture or rugs.
If your HVAC system is over 10 years old, you may need to replace it as it may only be operating at 60% efficiency. You may want to install a smart programmable thermostat to save money on your energy bills. By lowering the temperature by a degree or two, you can save a significant amount each month. Help your HVAC system from overworking by sealing air drafts around your home and ensuring your attic is well insulated.
Gutter Cleaning
As the season starts to change from warm to cold, the beautiful leaves on your trees begin to change color and fall. Many of these falling leaves can land in and clog up your gutters. If you don't clean your gutters before winter, it can put your home at risk for ice dams to develop that can damage your roof. It's also a good idea to inspect the gutters for signs of wear and tear when taking care of this item on your autumn home improvements list. If you're not sure what to look for, you can hire one of the local gutters contractors to inspect and clean your gutters for you.
When cleaning out your gutters, make sure the downspouts are facing at least five feet away from your home. If they aren't, it can cause water to leak into your basement. Tighten up loose gutters by using fascia hanger brackets. When you are finished clearing out the gutters of debris, take your water hose and run water through the system to make sure it flows properly. This will also ensure that any remaining debris is eliminated.
Pest Control
Pests can do extensive damage to your home. Rodents and other critters naturally seek warmer shelter during the fall and winter seasons. If they get into your home, they can cause thousands of dollars of damages to electrical wiring and woodwork as well as making you sick. If left unchecked, the damage may be completely unrepairable. You can keep pests out by hiring pest control services to spray your home.
There are autumn home improvements you can do yourself to keep pests out. Inspect the exterior of your home for gaps or openings where rodents can get in and fill them with spray foam. Screen chimneys and vents and make sure to keep your basement dry. Keep your kitchen counters clear and store food in airtight containers. Keep garbage cans securely closed and eliminate clutter in your home where rodents can hide.
Rug Cleaning
During fall and winter, you spend more time indoors which can wreak havoc on allergies. The air in your home can become contaminated by dirt, pollen, and other allergens floating through the area. Your carpet and rugs can collect these allergens and get kicked up into the air as you move throughout your home. Carpet and area rug cleaning is one of the biggest autumn home improvements that can help significantly improve the air quality in your home. You can either hire a professional carpet cleaning service or clean your carpet and rugs yourself.
Once your carpets and rugs are cleaned, there are a few things you can help maintain them during the fall and winter months. Install shoe racks at your home's entrance so everyone can take off their shoes when they come into the house. Vacuum frequently and make sure your vacuum bags are clean before each use. Clean and store outdoor rugs to help preserve them from the harsh winter weather.
Yard Cleanup
Yard cleanup is another one of those autumn home improvements that is crucial to tackle. Make sure that any rocks, branches, and other debris are cleared to prevent accidental trips and falls. Rake leaves and clean out old vegetables and weeds from the garden. Residential garden irrigation can help keep your grass and garden area properly watered to prevent damage from snow and ice. Drain water from hoses and fountains to prevent water damage from freezing and cracking.
Aerate your lawn and add fertilizer to provide it with the nutrients it needs over the winter. Protect cold-sensitive plants and prune trees and shrubs. Clean gardening tools and bring them inside for winter storage. If you have a pool, clean it thoroughly, drain the lines, and cover the pool. Give your lawn one last mow before storing your lawnmower and bring in all outdoor furniture and gardening pots and store in your garage or shed.
Fire Pit Prep
The chill of autumn is the perfect time to enjoy a fire pit in your backyard. If you would like to add building a new fire pit to your autumn home improvements list, there are a few things you need to know. Contact your local government and ask about any requirements necessary to have a firepit. Make sure you choose a location that is ten feet away from anything that may be flammable. Use the right fire building materials and have a fire extinguisher nearby the firepit at all times.
You can build a simple fire pit by digging a hole a foot deep and circling it with rocks or bricks. You can also find a wide selection of pre-made firepits you can easily install. Make sure that weeds, grass, and debris are clear from the area. Once your fire pit is ready, invite a few friends over for some craft beer and smores. When you are done using the firepit, make sure the fire is fully extinguished before you leave the area.
Seal Up Windows
Fall is when you may begin to notice chilly drafts wafting through your home. This may be caused by air seeping in through your windows. Replacing and repairing your windows should be a high priority for autumn home improvements to make. It can save you money and keep pests from entering your home during the winter months. Excess moisture from rain and snow can cause health issues from mold and rot.
Feel around your windows for any air that may be coming through. Look for cracks and gaps and seal them with caulk. You may want to install weather stripping now to provide an extra layer of insulation. Consider using heavy drapes to block airflow from circulating throughout your home. If you don't seal up your windows, it can cause your HVAC system to work harder than it should and significantly increase your energy bills.
Organize Your Garage
When considering autumn home improvements, your garage shouldn't be neglected. Get it ready this fall by cleaning out any items you no longer need and rotating seasonal items. Prepare summer equipment for storage and inspect winter equipment such as snowblowers to make sure they are working properly. Install weather stripping and inspect your garage door. Clean up any oil spills and check for signs of mold and cracks along the walls.
Protect Your Plumbing
Protecting your plumbing is another one of the essential autumn home improvements you will want to focus on. Cracks in plumbing seals can cause water damage from leaks and bursting from freezing during the winter. Replace any leaky faucets or running toilets with energy efficient models. Faulty water pressure from your showerhead can be corrected by using a descaling solution to eliminate lime accumulation. Your washing machine hose should be replaced once every five years to prevent leaks.
You can use a hair catcher to prevent clogs in your shower. Be sure to clean it every few days to keep your pipes clear. Be careful about what you put down your kitchen sink. Large chunks of food, fat, and grease can cause clogging that leads to water damage. Have your septic system inspected and cleaned as well to avoid any potential problems from occurring during the winter months. You may wish to have a professional plumber perform an inspection to make sure you don't miss anything important.
Boost Attic Insulation
Your list of autumn home improvements wouldn't be complete without addressing the importance of proper attic insulation. Installing additional insulation this fall can help lower your monthly energy bills significantly this winter. It can also help prevent ice dams and icicles from forming that could damage your roof. Inspect your insulation for any tears and gaps and find out how much you need for the Chicago winter climate. Add insulation as needed to keep your home warm and cozy all winter long.
By tackling these autumn home improvements, you can make sure your family and home is protected from harsh Chicago winters. You can relax and enjoy all the full beauty of fall with your favorite warm beverage in hand. Winter is coming, so make sure you're ready by getting started today!