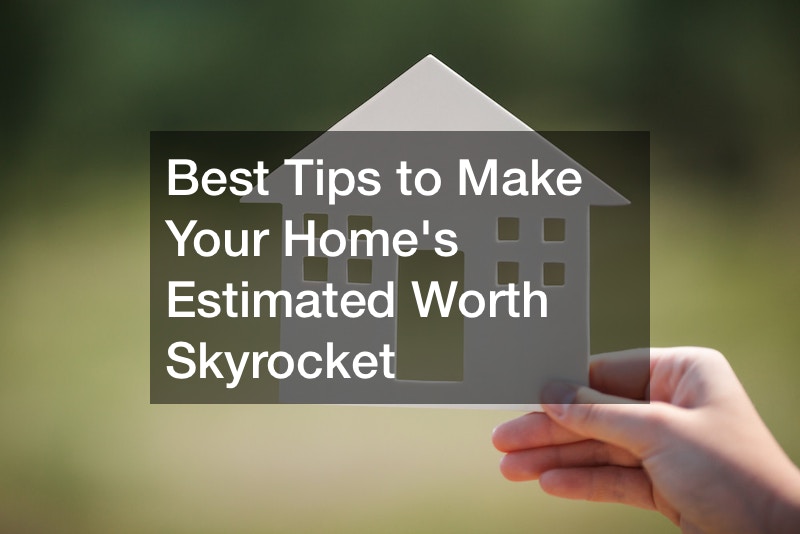 Whether the estimated worth of your home is $70,000 or $770,000, it is one of the largest investments you will ever make in your lifetime. Increasing the estimated worth of your house and property can have very significant financial benefits for you and your family. In this article, we will explore all the ways that you can increase your home's estimated worth and make it skyrocket.

Replace Your Water Heater
One of the ways you can increase your home's estimated worth is by getting a replacement hot water heater. This is a wise investment that not only enhances your daily comfort but will also increase the value of your property overall. A new water heater offers several benefits the potential buyers will want which, in turn, contribute to a higher home value. For instance, a new water heater will improve the energy efficiency of your home. Older water heaters tend to use much more electricity or gas, which results in higher energy bills. By installing a more modern, energy-efficient model, you will not only save money on utility costs but also appeal to buyers who are environmentally conscious and are seeking out sustainable features in a new home. A new water heater can also provide you with more peace of mind. Older units can leak or malfunction, which can result in costly repairs and even expensive water damage. A replacement water heater offers things like smart controls, programmable settings, and even improved insulation.
Pave a Brand New Driveway
Paving a brand-new driveway can significantly increase the estimated value of a home in several ways. A new driveway enhances the overall curb appeal of the property. The driveway is often one of the first things potential buyers see when they come to visit a house, so a well-maintained, attractive driveway can leave a positive first impression. Another way in which driveway paving can add value to your home is the practical benefits that it offers. Your smooth driveway improves the accessibility and convenience for not only the homeowners but for their guests as well. An upgraded driveway can also increase the usable amount of space throughout the property. This is because a longer or wider driveway allows for more parking spaces and even an area for recreational vehicles. This added versatility can be very appealing to potential buyers with specific needs, such as having multiple or larger vehicles. A new driveway will also reflect that you have maintained your property very well. It signals to potential buyers that the homeowners have invested in their house and have kept the property up in optimal order.

Install an Inground Spa or Pool
Installing an inground pool or spa can significantly increase the value of your home when it comes to financial worth as well as its overall appeal. This luxurious feature will transform your property into a haven of relaxation and entertainment which is very attractive to potential buyers and will increase its marketability. An inground spa or pool adds a touch of opulence to any home. It creates a private oasis where people can rejuvenate, which is very appealing in today's fast-paced world. This type of feature provides an opportunity for homeowners and their guests to unwind and escape the stresses of everyday life, which makes it a great selling point when you want to sell your home.
An inground pool or spa will also enhance the aesthetic appeal of your house. It becomes the focal point of your outdoor space, which will increase the allure of it for potential buyers. The tranquil hot tub or the sparkling blue water of the pool is a great setting that is very enticing for potential buyers. An inground pool or spa will also increase the functionality and usability of your property. This is because it offers a refreshing respite during the hot summer months and allows for year-round enjoyment with the addition of a heated spa. The versatility of this feature makes it highly desirable for families as well as people who love the outdoors, who love to entertain, or who are fitness enthusiasts. This makes inground spas or pools very valuable investments for homeowners because it will increase the property's estimated worth as well as its versatility and attractiveness.
Contact a Flooring Contractor
It is a great idea to contact a flooring contractor when you are attempting to increase the value of your home. This is because fluorine is a very prominent feature throughout your home and will have a direct impact on the overall aesthetic appeal and functionality of a space. By upgrading or replacing the flooring in your home, you can breathe new life into the property, increasing its estimated worth.
Flooring contractors possess the knowledge and skills that are needed to choose suitable flooring options that are based on your needs as well as your budget. They can guide you through a wide range of materials, such as laminate, tile, hardwood, or carpet, and explain the pros and cons of each one. Their expertise will ensure that you will choose the correct flooring that will not only enhance the visual appeal of your home but will also withstand high traffic from everyday use.
When it comes to flooring contractors, you will want to choose someone local to you. You can seek out word-of-mouth recommendations from neighbors and friends who have used companies in the area. Experienced flooring contractors have the knowledge that is needed to guarantee a beautiful and flawless result. This will eliminate the risk of having improper fitting or unsightly gaps in your new flooring. They have great attention to detail and the craftsmanship that is needed to be able to create a seamless and very polished look that will drive up the price of your property while attracting potential buyers because of the beautiful aesthetic the flooring adds to your home.

Upgrade Your Countertops
The kitchen and bathroom areas are the two most important rooms in your house. This means that you will want to have great countertops, that will not only add a beautiful look to your home but will also increase your home's estimated worth.
Countertops made of granite, marble, or quartz to provide a very sophisticated and luxurious look and feel to your kitchen and bathroom areas. New countertops will also modernize your space since they can replace outdated or worn-out countertops. It is good to invest in more durable materials like granite or quartz since that will ensure that your countertops will withstand daily wear and tear and require low maintenance. New granite countertops will also increase the estimated worth of your home and the upgrades in your kitchen and bathroom areas will likely make your house stand out from the competition and attract higher offers from potential buyers.
Give Your Home a Fresh Coat of Paint
A fresh coat of paint or new siding on the outside of your house will not only add to your home's curb appeal but will also make it look more well-maintained and make a better impression on potential buyers. A fresh coat of paint or new siding will instantly revitalize the appearance of your house and make a great first impression. You should choose neutral colors such as beige, white, or gray that can make your house appear larger, warmer, and more welcoming. This basically creates a blank canvas for buyers to allow them to envision their own style and décor.
By painting the interior walls of your home, you can create a warm atmosphere for potential buyers. Outdated or very bold colors can turn off potential buyers, while a fresh neutral palette can make the space feel more modern and versatile. A good paint job can also make rooms look larger, cleaner, and brighter, which will make item shop buyers. A fresh coat of paint also protects the surfaces of your home from wear and tear as well as sunlight, moisture, and other elements. This added layer of protection will extend the lifespan of the outside of your home as well as the interior walls, doors, trim, and other surfaces. This can reduce the cost of repairs or replacements in the future, hence increasing the value and overall desirability for potential buyers.
Giving your home a fresh coat of paint is an effective and affordable way to increase its value. The exterior appearance of a house plays a significant role in its overall appeal and can make a lasting impression on potential buyers.
While you can paint your home yourself, it is much better to hire a painting contractor. This is because painting contractors have the experience, knowledge, and skills that you probably do not possess to create a flawless and gorgeous look for your home.

Remove Dead Trees
Nothing screams a property that has not been maintained well more than having several dead trees and branches throughout the property. Removing dead trees can significantly increase the estimated worth of your home in a variety of different ways. Dead trees pose potential hazards, such as falling branches or trees. By removing them, you will reduce the risk of property damage and even personal injury from falling trees and branches. Also, dead trees are ugly and unsightly, which will detract from your home. This will not only enhance its overall appearance but increase its market value as well. Simply call upon a local tree removal company to rid your property of dead trees and you will be on your way to increasing the value of your home.
Keep Your AC Running
Maintaining your central air conditioning system properly is imperative in selling your home and increasing its value. A properly functioning air conditioning system is imperative to ensure a comfortable living environment for you and your family, especially during the hot summer months, but it is also a great selling point for potential buyers. Having an energy-efficient air conditioning and heating system reduces energy consumption, which lowers utility bills. Potential buyers are attracted to this and the comfort that both bring along with them during the summer and winter months. Regular maintenance and servicing of your air conditioning system will extend its lifespan.
Keep in mind that there is even a marketing demand when it comes to home buying for people to have an updated and well-functioning heating and cooling system. A home inspector will definitely be checking out your cooling and heating system to ensure that it is in optimal working order before a potential buyer completes their transaction to take over ownership of your home. If the inspector finds things wrong with your heating and cooling system or finds that is outdated or not well maintained, it can actually decrease the value of your home. This is the reason it's so important to keep the air conditioning service in proper working order.
Customize a New Closet
Custom closet designs are becoming increasingly popular because homeowners want functional and aesthetically pleasing spaces that will maximize their storage capacity while allowing them to become much more organized.
A customized closet will allow for more storage and will incorporate adjustable shelves, drawers, and hanging rods to accommodate a variety of different items and keep your closet organized. You can even have built-in features, such as tie and belt holders, jewelry trays, and even shoe racks that add even more convenience. A customized closet will also maximize the overall space efficiency of your home. By installing space-saving solutions such as sliding doors, pull-out baskets, and vertical dividers, you can make the most of every inch of space in your closet, which creates ample storage capacity. When it comes to customizing a closet, do not forget the lighting. It is often overlooked but it plays a very important role in enhancing the overall functionality and aesthetics of your new closet. You need proper lighting fixtures, such as spotlights or LED strips, that will create a very well-lit closet within an overall inviting atmosphere. This will not only showcase the contents of your closet beautifully, but it will make it easier for you to locate items that you need.
Redo Your Front Door
Much like your driveway, your front door is seen right away by potential buyers. You can increase the overall estimated worth of your home by redoing your front door through a custom door service. They will create a well-designed front door that will give a beautiful look to your home and a positive first impression on potential buyers.
By applying these tips, you can quickly increase the overall curb appeal and value of your home and its surrounding property.